The Experience
Named after Civil War general Benjamin Franklin Tracy, this narrow fjord is located approximately 50 miles southeast of Juneau. Breathtaking Tracy Arm extends over 30 miles long, with nearly a quarter of its area covered in ice. In fact, it encompasses some of Alaska's largest glaciers, including the twin Sawyer glaciers, which often expel enormous chunks of ice into the waters below in a magnificent process known as calving. During the summer when Princess ships visit, icebergs float along the surface of the glistening water in an array of sizes, from just a few inches up to three stories wide.
Day
Port / Date
Arrive
Depart
Day 1

Seattle, Washington
Sunday, May 18

4:00 PM
Day 2

At Sea
Monday, May 19

Day 3

Ketchikan, Alaska
Tuesday, May 20

6:30 AM
4:00 PM
Day 4

Tracy Arm Fjord, Alaska (Scenic Cruising)
Wednesday, May 21

6:00 AM
10:00 AM
Day 4

Juneau, Alaska
Wednesday, May 21

2:00 PM
10:00 PM
Day 5

Skagway, Alaska
Thursday, May 22

6:00 AM
5:00 PM
Day 6

At Sea
Friday, May 23

Day 7

Victoria, British Columbia
Saturday, May 24

7:00 PM
11:59 PM
Day 8

Seattle, Washington
Sunday, May 25

7:00 AM
LESS

The Route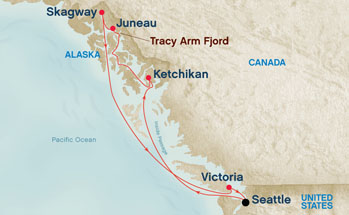 Start with our
vacation planner
so we can match you with our most suitable travel advisor. We do it all for you, air, car, accommodations, tours, you name, it in a seamless luxury vacation experience you will treasure for a lifetime.