The Experience
One of the warmest places on earth. Where sleepy fishing villages huddle close in hidden coves. And hardy, friendly folks invite you to linger awhile in the brisk ocean air. The rocky shorelines practically pose for your photos. The hotels still have the character of centuries past. Unbelievably fresh seafood and locally grown fruit and vegetables reveal their harvesters' love of the land and of the sea. And award-winning wines tempt you at every turn. Can a week-long trip add years to your life? In Nova Scotia, it's not hard to imagine.
Stroll on one of Nova Scotia's well-kept secrets, an old coastal cart path
Explore World Heritage-status Lunenburg
Succulent lobster and Domaine de Grand Pré wines
Cruise to idyllic Big Tancook Island, where time seems to stand still
DAYS 1-2 Tasting, tour and dinner at Domaine de Grand Pré winery Walk along a historic dike system to the Grand Pré National Historic Site Hike atop the jaw-dropping Red Cliffs of Cape Blomidon and take in views of patchwork farmland and stunning seascapes Stand in awe of Minas Basin and the wild Bay of Fundy, home of the world's highest tides.
DAY 3 White-sand beaches and historic fishing hamlets Kejimkujik Seaside Adjunct has it all: coastal tundra forests, salt marshes, bogs and pristine seashore – diverse ecosystems that provide the ideal stopover location for Canada geese and black ducks Like catching rays? Harbor seals do too – see them sunning at Harbour Rocks And make sure to keep an eye out for the carnivorous pitcher plant!
DAY 4 World Heritage-status Lunenburg, "the best surviving example of a planned British colonial settlement in North America" Stroll on one of Nova Scotia's well-kept secrets, a century-old seaside cart path, keeping an eye out for sandpipers, gulls, ducks and geese Hike to the unspoiled headland of Gaff Point, where gorgeous vistas of the rugged coastline await.
DAYS 5-6 Peaceful rambles on shoreline paths, car-free roads and the beaches of Big Tancook Island, where lobstermen and artisans provide cultural color Stunning coastal panoramas, rolling grasslands and quaint fishing villages – just another beautiful day's stroll Journey back to Lunenburg by private charter boat and enjoy a historic walk through the 18th-century seafaring town.
LESS

The Route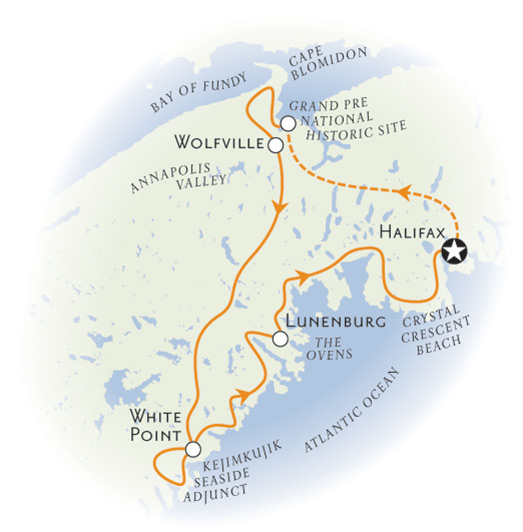 Start with our
vacation planner
so we can match you with our most suitable travel advisor. We do it all for you, air, car, accommodations, tours, you name, it in a seamless luxury vacation experience you will treasure for a lifetime.