The Experience
Your wedding day, graduation, the day you got that promotion. What are some of your best days? Well, make space for these six days in Costa Rica. You'll follow undulating routes on road bikes, spinning past scenery so enchanting you're instantly smitten. Be greeted by farmers – and howler monkeys! Soak in hot springs, hike in the rain forest, gape at waterfalls and that majestic volcano. Love the riding and those papaya batidos. Did we mention blissing out on a gorgeous beach? By the end, you'll know these six incredible days will never be forgotten. Road bike past thriving rain forest, breathtaking waterfalls and captivating villages Commune with nature at the tranquil eco-friendly Nayara Hotel & Spa Ride in the shadow of imposing Arenal Volcano Soak in hot springs in a jungle oasis Watch monkeys play – then hit the beach and show them how humans do it!
DAY 1 Meet our longtime local friends, who introduce you to the pura vida lifestyle that defines the Tico culture Ride on smooth undulating roads through rain forests, over rivers, past fruit groves and small farming hamlets Clouds willing, the views of Arenal Volcano will be impressive! Mango con leche, anyone? Cool off with a refreshing fruit drink in lively La Fortuna. DAY 2 Take in views of majestic Arenal Volcano on a boat ride across Lake Arenal Pedal part of the Vuelta del Lago mountain bike race route – at your own pace of course Sweet music to your ears? Listen for the call of howler and white-faced monkeys as you venture across a network of hanging bridges high in the rain forest canopy Soak in hot springs amid palms, bromeliads and ferns. DAY 3 Pedal rolling roads flanked by papaya, pineapple and yucca plantations Hop off the saddle to explore a local art gallery The afternoon is yours to do as you choose – more biking, a zip-line adventure through the jungle canopy or a visit to the spa, perhaps? DAYS 4-6 A scenic flight whisks us to the Nicoya Peninsula Pedal through tropical dry forest, with spectacular views of the Gulf of Nicoya Enjoy ocean breezes on a private boat ride to Bahia Ballena Ride to Curú Biological Reserve, keeping your eyes open for scarlet macaws and spider monkeys Savor the relaxed pace of "Tico time": bask by the spring-fed swimming pool, visit the spa, do some yoga – or find your very own pura vida on the beach.
LESS

The Route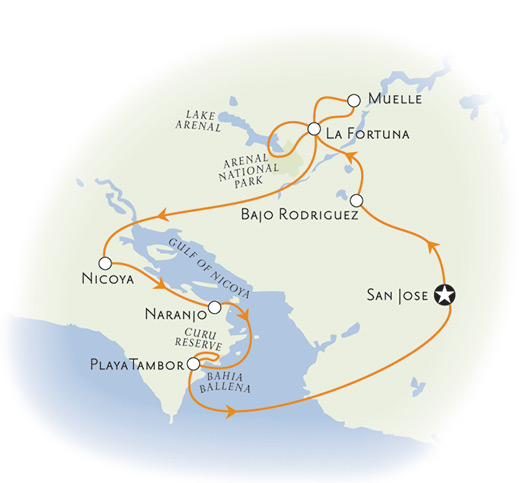 Start with our
vacation planner
so we can match you with our most suitable travel advisor. We do it all for you, air, car, accommodations, tours, you name, it in a seamless luxury vacation experience you will treasure for a lifetime.