The Experience
Start with Prague, a true gem of Eastern Europe, with bustling culture and dramatic architecture that inspires at every turn. Head south and the Czech Republic reveals itself one peaceful village at a time. Hearty meals. Earnest people eager to share stories. Stretches of quiet road. Simple farmland. Raw beauty. Cross the Danube and speed through time. You'll encounter Austria's stark, jagged peaks. And a joy in the countryside, in the people and in the culture. It's amazing the contrast of these neighboring European countries.
Discover two intriguing countries and cultures
Gentle pastoral strolls in the Czech Republic and dramatic alpine treks in Austria
A guided visit in Český Krumlov, an incredible World Heritage site
Hike glorious glacier-carved valleys to castles and picture-perfect villages
Trace Czech history with Helena, our friend and historian
Day 1 Gentle pastoral strolls to picture-perfect villages in the Czech Republic After lunch at a secluded farmhouse-turned-inn, stride through rolling pastureland, evergreen forests and roads lined by fruit trees in southern Bohemia.
Day 2 Historian-led visit of enchanting Český Krumlov, an incredible World Heritage site with cobblestone streets, Baroque and Renaissance houses, vaulted passageways and hidden squares Hike into the hills for sweeping city views Rendezvous at a popular pub for a tasting of Czech beers.
Days 3-4 Journey to Austria and discover a World Heritage site Ascend by cable car from Traunsee (one of Austria's deepest lakes) to Feuerkogel peak, where a heavenly hike with stunning vistas awaits When better to taste apfelstrudel, the delicious signature highland dish, than mid-trek at a cozy alpine hut A walking tour of the tiny, World Heritage site town of Hallstatt reveals ancient salt-mining roots Keep your eyes peeled for a chamois and discover the beauty of the Dachstein massif Amble among cascading waterfalls Schuhplattler dancers treat us to a lively performance.
Days 5-6 Dramatic alpine treks to castles with glacier views Ride a cog train, in operation since 1893, from the storybook village of St. Wolfgang up Schafberg Mountain – you won't want to miss this photo op! Hike to the lovely resort town St. Gilgen, the birthplace of Mozart's mother and the setting for many scenes in The Sound of Music Stretch your legs on a leisurely walk around Fuschlsee, a beautiful lake sheltered by pine-clad hills.
LESS

The Route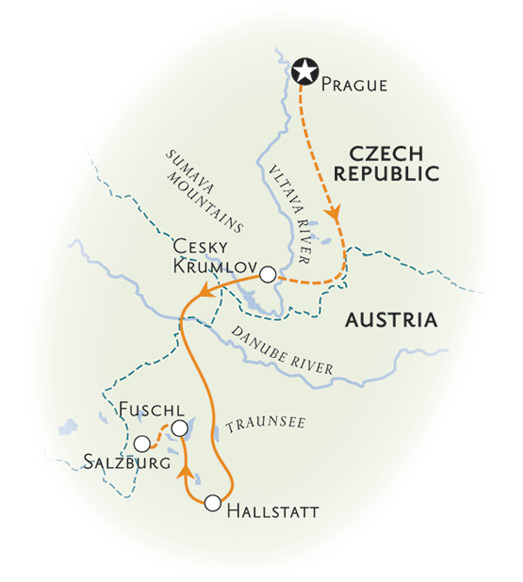 Start with our
vacation planner
so we can match you with our most suitable travel advisor. We do it all for you, air, car, accommodations, tours, you name, it in a seamless luxury vacation experience you will treasure for a lifetime.