The Experience
Romantic Cities of the Baltic & Russia. Follow the midnight sun to the Baltic and less-traveled ports of Germany and Poland. Step into the Middle Ages in Lübeck and Wismar, picturesque Hanseatic towns of authentic architecture and cobbled streets. Explore ancient churches and beautiful countryside on the resort isle of Bornholm.
Then visit historic Gdansk, where Lech Walesa launched the communist government overthrow, and Tallinn, where Estonians did the same with the famous Singing Revolution. Three days in St. Petersburg are a real treat, with time for great sites including Catherine Palace, the Hermitage and Peterhof Palace. Discover the Design Museum and Rock Church in Helsinki, and old Gamla Stan in Stockholm.
Date
Port/City
Activity
Arrival
Depart
SAT 28-JUN
Copenhagen, Denmark
Embark
7:00 pm
SUN 29-JUN
Travemunde (Lubeck), Germany
Docked
8:30 am
10:00 pm
MON 30-JUN
Wismar (Berlin), Germany
Docked
7:00 am
11:59 pm
TUE 1-JUL
Ronne, Bornholm, Denmark
Docked
12:00 pm
6:00 pm
WED 2-JUL
Gdansk (Gdynia), Poland
Docked
8:00 am
10:00 pm
THU 3-JUL
AT SEA
Cruising
FRI 4-JUL
Tallinn, Estonia
Docked
8:00 am
6:00 pm
SAT 5-JUL
St. Petersburg, Russia
Docked
10:00 am
SUN 6-JUL
St. Petersburg, Russia
Docked
MON 7-JUL
St. Petersburg, Russia
Docked
8:00 pm
TUE 8-JUL
Helsinki, Finland
Docked
9:30 am
5:00 pm
WED 9-JUL
Stockholm, Sweden
Docked
11:00 am
THU 10-JUL
Stockholm, Sweden
Debark
LESS

The Route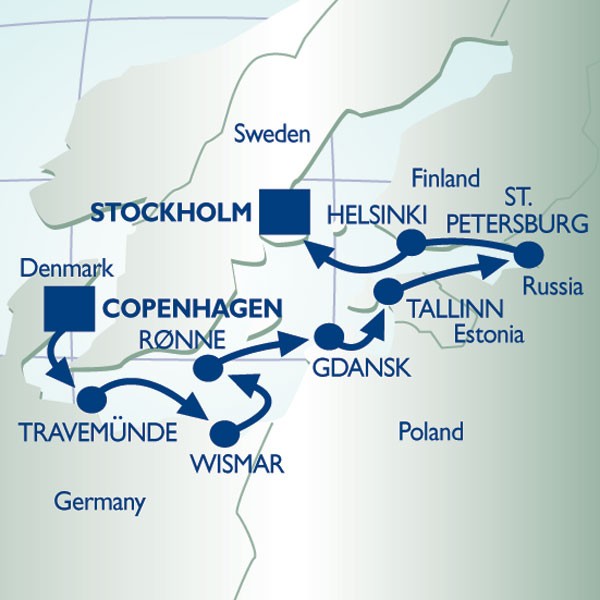 Start with our
vacation planner
so we can match you with our most suitable travel advisor. We do it all for you, air, car, accommodations, tours, you name, it in a seamless luxury vacation experience you will treasure for a lifetime.