The Experience
Taste a variety of wonderful experiences on one great voyage. On Rhodes, discover the amazing medieval l.c. Old town of the Knights of St. John and narrow winding streets of Lindos. Kas welcomes you to a beautiful seaside setting with a choice of three excursions: a boat ride to the must-see sunken city of Kekova, the unique archeological sites and Lycian tombs of Myra, or well-preserved Patara near a beautiful beach.
From Limassol, visit the beautiful mosaics of Paphos or head to Nicosia, the divided capital city notable for its Greek Orthodox churches. Following daylight transit through the Suez Canal, your next destination is Muscat. This beautifully preserved old city boasts a breathtaking Grand Mosque, splendid beaches, traditional l.c. Old town souks and nearby mountain forts. Dubai is a vivid contrast with over-the-top architecture, glittering shops and hotels.

Date
Port/City
Activity
Arrival
Depart
MON 19-OCT
Piraeus (Athens), Greece
Embark
6:00 pm
TUE 20-OCT
Rhodes (Lindos), Greece
Docked
12:00 pm
10:00 pm
WED 21-OCT
Kas (Turquoise Coast), Turkey
Tendered
8:00 am
8:00 pm
THU 22-OCT
Limassol, Cyprus
Docked
11:00 am
11:59 pm
FRI 23-OCT
AT SEA
Cruising
SAT 24-OCT
Suez Canal (Passage)
Cruising
1:00 am
7:00 pm
SUN 25-OCT
AT SEA
Cruising
MON 26-OCT
AT SEA
Cruising
TUE 27-OCT
AT SEA
Cruising
WED 28-OCT
AT SEA
Cruising
THU 29-OCT
AT SEA
Cruising
FRI 30-OCT
AT SEA
Cruising
SAT 31-OCT
Muscat, Oman
Docked
8:00 am
8:00 pm
SUN 1-NOV
AT SEA
Cruising
MON 2-NOV
Dubai, United Arab Emirates
Docked
7:00 am
TUE 3-NOV
Dubai, United Arab Emirates
Debark
LESS

The Route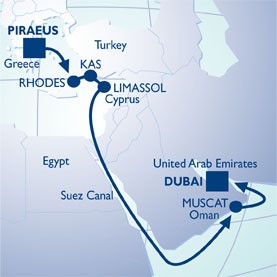 Start with our
vacation planner
so we can match you with our most suitable travel advisor. We do it all for you, air, car, accommodations, tours, you name, it in a seamless luxury vacation experience you will treasure for a lifetime.