The Experience
It seems unlikely that a character named "Gassy Jack" Deighton would be responsible for one of the most beautiful cities on the continent. But that's history for you.
During the gold rush, Gassy Jack saw a chance to make money from the hordes of miners on their way to the Yukon. The saloon he built became the focus of the shanty town known as Gastown. From that ragtag group of shacks, modern Vancouver was born. The provincial government persuaded settlers to change the name of the town to Vancouver, after Captain George Vancouver, who sailed the region's waters in 1792.
Canada's third-largest city, Vancouver is a cosmopolitan place with a European feel and a personality all its own. It's a community with a rich ethnic mix – including the second-largest Chinatown in North America – and stunningly beautiful parks.
Day
Port / Date
Arrive
Depart
Day 1

Vancouver, British Columbia
Tuesday, May 27

3:00 PM
Day 2

At Sea
Wednesday, May 28

Day 3

Juneau, Alaska
Thursday, May 29

2:00 PM
10:00 PM
Day 4

Skagway, Alaska
Friday, May 30

7:00 AM
8:00 PM
Day 5

Glacier Bay National Park, Alaska (Scenic Cruising)
Saturday, May 31

6:00 AM
3:00 PM
Day 6

Ketchikan, Alaska
Sunday, June 1

11:00 AM
5:00 PM
Day 7

At Sea
Monday, June 2

Day 8

Vancouver, British Columbia
Tuesday, June 3

7:30 AM
LESS

The Route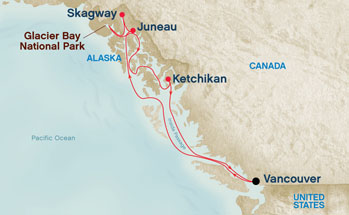 Start with our
vacation planner
so we can match you with our most suitable travel advisor. We do it all for you, air, car, accommodations, tours, you name, it in a seamless luxury vacation experience you will treasure for a lifetime.