The Experience
With icons like the orange-colored Golden Gate Bridge, clanging streetcars, rolling fog and impossibly steep hills, scenic San Francisco never fails to capture your heart. While the setting is dramatic, the atmosphere is positively laissez-faire, so feel free to do whatever you wish. Tour notorious Alcatraz. See predators like the sharks that live in the surrounding waters at the Aquarium of the Bay. Observe the bonsai in the Japanese Tea Garden in emerald-green Golden Gate Park. Go up mural-covered Coit Tower atop Telegraph Hill for an amazing view of the city, which looks even more dynamic at night.
Day
Port
Arrive
Depart
01
San Francisco, United States
6:00 p.m.
02
Cruising the Pacific Ocean
03
Astoria, United States
7:00 a.m.
3:00 p.m.
04
Cruising the Outside Passage
05
Sitka, Alaska
12:00 p.m.
9:00 p.m.
06
Cruising Hubbard Glacier
07
Juneau, Alaska
8:00 a.m.
5:00 p.m.
08
Ketchikan, Alaska
11:00 a.m.
8:00 p.m.
09
Cruising the Inside Passage
10
Victoria, Canada
12:00 p.m.
11:59 p.m.
11
Vancouver, Canada
7:00 a.m.
LESS

The Route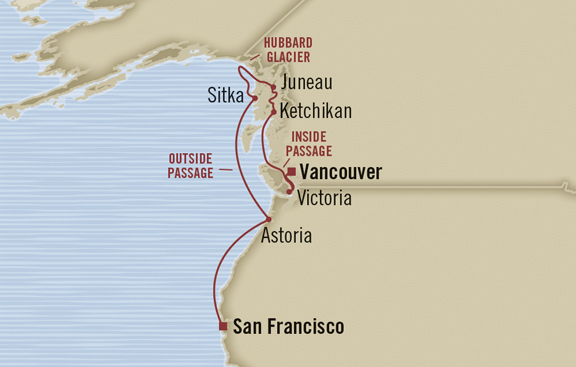 Start with our
vacation planner
so we can match you with our most suitable travel advisor. We do it all for you, air, car, accommodations, tours, you name, it in a seamless luxury vacation experience you will treasure for a lifetime.