The Experience
Ride the aerial tram through the rainforest canopy at Braulio Carillo National Park. Take a boat ride through the Tortuguero Canals or the Estero Negro estuary, the rich jungle tapestry all around, while watching for colorful birds, monkeys, iguanas, sloths, crocodiles and the legendary, iridescent Blue Morpho butterfly.
Dining:
Try a hearty beef and vegetable soup or beef and chicken dishes with traditional black beans and rice.
Shopping:
Local carved wood crafts, leather goods, ceramics and jewelry make nice souvenirs.
Day
Port
Arrive
Depart
01
Lima/Machu Picchu (Callao), Peru
5:00 p.m.
02
Salaverry, Peru
9:00 a.m.
6:00 p.m.
03
Cruising the Pacific Ocean
04
Manta, Ecuador
7:00 a.m.
9:00 p.m.
05
Cruising the Pacific Ocean
06
Panama Daylight Transit
07
Puerto Limon, Costa Rica
7:00 a.m.
6:00 p.m.
08
Cruising the Caribbean Sea
09
Santo Tomas, Guatemala
10:00 a.m.
8:00 p.m.
10
Roatan, Honduras
8:00 a.m.
5:00 p.m.
11
Cozumel, Mexico
8:00 a.m.
11:59 p.m.
12
Cruising the Straits of Florida
13
Miami, United States
8:00 a.m.
7:00 p.m.
14
Port Canaveral, United States
8:00 a.m.
5:00 p.m.
15
Charleston, United States
9:00 a.m.
7:00 p.m.
16
Cruising the Atlantic Ocean
17
New York, United States
7:00 a.m.
LESS

The Route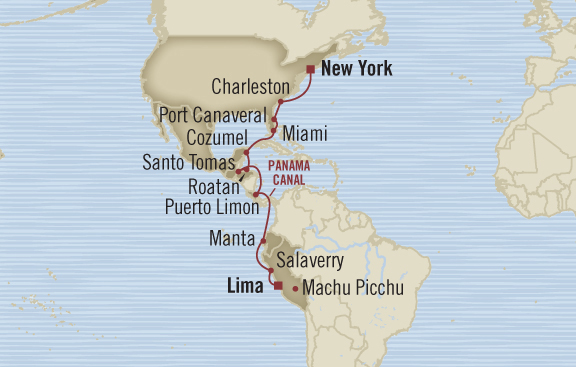 Start with our
vacation planner
so we can match you with our most suitable travel advisor. We do it all for you, air, car, accommodations, tours, you name, it in a seamless luxury vacation experience you will treasure for a lifetime.