The Experience
A bay bordered by steep hills, stately old Victorian homes, cable cars – no, it's not San Francisco, California. Welcome to Valparaiso. Populated in 1536, and named after the birthplace of conquistador Diego de Almagro, Valparaiso is Chile's oldest city. It is also the gateway to Chile's central valley and the capital of Santiago. With a population of over 5 million people, Santiago sprawls at the feet of the snow-capped Andes. The Maipo Valley, Chile's internationally renowned wine district is a short drive to the south.
Day
Port / Date
Arrive
Depart
Day 1

Santiago (Valparaiso), Chile
Saturday, January 17

6:00 PM
Day 2

At Sea
Sunday, January 18

Day 3

Puerto Montt, Chile
Monday, January 19

7:00 AM
5:00 PM
Day 4

Chacabuco, Chile
Tuesday, January 20

8:00 AM
6:00 PM
Day 5

At Sea
Wednesday, January 21

Day 6

Amalia Glacier, Chile (Scenic Cruising)
Thursday, January 22

7:00 AM
8:00 AM
Day 7

Punta Arenas, Chile
Friday, January 23

6:00 AM
7:00 PM
Day 8

Ushuaia (Tierra del Fuego), Argentina
Saturday, January 24

12:00 PM
8:00 PM
Day 9

Cape Horn (Scenic Cruising)
Sunday, January 25

8:00 AM
9:00 AM
Day 10

Falkland Islands (Stanley)
Monday, January 26

8:00 AM
6:00 PM
Day 11

At Sea
Tuesday, January 27

Day 12

Puerto Madryn, Argentina
Wednesday, January 28

7:00 AM
5:00 PM
Day 13

At Sea
Thursday, January 29

Day 14

Montevideo, Uruguay
Friday, January 30

8:00 AM
5:00 PM
Day 15

Buenos Aires, Argentina
Saturday, January 31

8:00 AM
LESS

The Route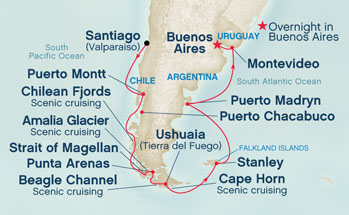 Start with our
vacation planner
so we can match you with our most suitable travel advisor. We do it all for you, air, car, accommodations, tours, you name, it in a seamless luxury vacation experience you will treasure for a lifetime.