The Experience
Barbados is one of the few Caribbean islands solely colonized by one nation. It's no wonder Bajans describe their country as being "more English than England sheself," surnames like Worthing and Hastings abound. But look around and you know you're not in England: rich and fertile tropical fields meet a glistening, azure sea. The soft pastels of old chattel houses blend with the vibrant reds, oranges, and greens of roadside fruit stands. In short, Barbados exudes a charm all its own. Perhaps it is due to Bajan culture, that celebrated blend of English tradition and the African heritage brought to the island by slaves imported to work the sugar plantations. The potent brew which results flavors every aspect of island life, from music, dance and art, to religion, language and food.
Day
Port / Date
Arrive
Depart
Day 1

Ft. Lauderdale, Florida
Wednesday, January 8

4:00 PM
Day 2

At Sea
Thursday, January 9

Day 3

At Sea
Friday, January 10

Day 4

St. Kitts, St. Kitts & Nevis
Saturday, January 11

8:00 AM
5:00 PM
Day 5

St. Lucia
Sunday, January 12

8:00 AM
6:00 PM
Day 6

Barbados
Monday, January 13

7:00 AM
4:00 PM
Day 7

Antigua, Antigua & Barbuda
Tuesday, January 14

9:00 AM
6:00 PM
Day 8

St. Thomas, U.S. Virgin Islands
Wednesday, January 15

7:00 AM
5:00 PM
Day 9

At Sea
Thursday, January 16

Day 10

Princess Cays, Bahamas
Friday, January 17

9:00 AM
4:00 PM
Day 11

Ft. Lauderdale, Florida
Saturday, January 18

7:00 AM
LESS

The Route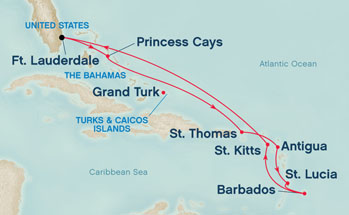 Start with our
vacation planner
so we can match you with our most suitable travel advisor. We do it all for you, air, car, accommodations, tours, you name, it in a seamless luxury vacation experience you will treasure for a lifetime.