The Experience
As your ship passes Harbour Heads, you are presented with the shimmering skyline of Sydney – hailed by many seafarers as "the most beautiful harbor in the world." Two prominent landmarks, Harbour Bridge and the sail-like curves of the Sydney Opera House, grace the backdrop of this picturesque harbor. There is a wealth of adventure waiting in Sydney – from its cosmopolitan city center to miles of beautiful beaches and the Blue Mountains.
Australia's oldest and largest city was born in 1788 with the arrival of the "First Fleet" transporting 760 British convicts. Today, Sydney is the largest port in the South Pacific and is often voted the most popular destination in the South Pacific.
Day
Port / Date
Arrive
Depart
Day 1

Sydney, Australia
Saturday, January 25

4:00 PM
Day 2

At Sea
Sunday, January 26

Day 3

At Sea
Monday, January 27

Day 4

Lifou, New Caledonia
Tuesday, January 28

10:00 AM
7:00 PM
Day 5

Vila, Vanuatu
Wednesday, January 29

8:00 AM
5:00 PM
Day 6

At Sea
Thursday, January 30

Day 7

Port Denarau, Fiji
Friday, January 31

8:00 AM
6:00 PM
Day 8

Suva, Fiji
Saturday, February 1

8:00 AM
5:00 PM
Day 9

Savusavu, Fiji
Sunday, February 2

8:00 AM
6:00 PM
Day 10

Dravuni Island, Fiji
Monday, February 3

7:00 AM
5:00 PM
Day 11

At Sea
Tuesday, February 4

Day 12

Noumea, New Caledonia
Wednesday, February 5

9:00 AM
5:00 PM
Day 13

At Sea
Thursday, February 6

Day 14

At Sea
Friday, February 7

Day 15

Sydney, Australia
Saturday, February 8

7:00 AM
LESS

The Route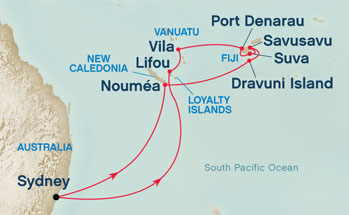 Start with our
vacation planner
so we can match you with our most suitable travel advisor. We do it all for you, air, car, accommodations, tours, you name, it in a seamless luxury vacation experience you will treasure for a lifetime.