The Experience
The first settlement of the marshy islands in the lagoon was for protection from barbarian tribes that terrorized mainland farms and villages. Island living quickly led to the development of skills in handling boats, then ships. Maritime trade conducted by shrewd merchants brought great wealth, which permitted the building of palaces, churches and monuments. The city became the center of the vast Venetian empire, its name forever summoning visions of grandeur, magnificence, richness, graciousness and beauty. Although later linked to the mainland, first by a railway bridge built in 1848 and then by a motor causeway in 1930, this island city will always be considered the "Queen of the Sea." There are no cars in Venice; all transportation is by boat or on foot along the time-worn, cobblestone streets and across some 400 bridges that span the city's 177 canals. Enchanting Venice truly offers an atmosphere that exists nowhere else.
Day
Port
Arrive
Depart
0
Venice, Italy
 
04:00 PM
1
Ancona, Italy
07:00 AM
04:00 PM
2
Dubrovnik, Croatia TR
08:00 AM
11:00 PM
3
Kotor, Montenegro
07:00 AM
03:00 PM
3
Scenic Cruising Bay of Kotor CO
 
 
4
Kerkira, Corfu, Greece
08:00 AM
06:00 PM
5
Crotone, Italy
08:00 AM
06:00 PM
6
Cruising Strait of Messina CO
 
 
7
Portoferraio, Italy
08:00 AM
05:00 PM
8
Livorno (Florence/Pisa), Italy
07:00 AM
07:00 PM
9
Monte Carlo, Monaco
08:00 AM
11:00 PM
10
Bandol, France TR
08:00 AM
05:00 PM
11
Sete, France
08:00 AM
06:00 PM
12
Barcelona, Spain
07:00 AM
LESS

The Route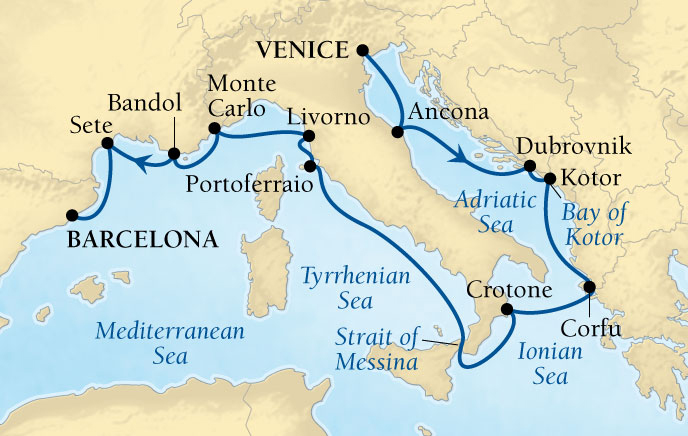 Start with our
vacation planner
so we can match you with our most suitable travel advisor. We do it all for you, air, car, accommodations, tours, you name, it in a seamless luxury vacation experience you will treasure for a lifetime.