The Experience
Milford Sound is a fjord in the south west of New Zealand's South Island, off the Tasman Sea. Part of the Fjordland National Park and the Te Wahipounamu World Heritage site, it has been judged one of the world's top travel destinations in an international survey. Frequently visited by rain, the mountain peaks rising from the waters of Milford Sound are often softened by mist and an air of almost flawless and overpowering mystic calm. Acclaimed as New Zealand's most famous tourist destination.
Day
Port
Arrive
Depart
0
Sydney, Australia VX
04:00 PM
1
At Sea
2
Melbourne, Australia ON VX
Noon
3
Melbourne, Australia VX
06:00 PM
4
At Sea
5
At Sea
6
At Sea
7
Milford Sound, New Zealand SC
08:00 AM
09:00 AM
7
Cruising Fiordland Natl Park CO
8
Oban (Halfmoon Bay), New Zealand TR
08:00 AM
05:00 PM
9
Timaru, New Zealand
10:00 AM
08:00 PM
10
Akaroa (Christchurch, NZ)Â TR
07:00 AM
07:00 PM
11
Kaikoura, New Zealand TR
08:00 AM
05:00 PM
12
Wellington, New Zealand
08:00 AM
11:00 PM
13
Picton, New Zealand
08:00 AM
06:00 PM
13
Cruising Queen Charlotte Sound CO
14
At Sea
15
Tauranga (Rotorua) New Zealand TC
08:00 AM
06:00 PM
16
Auckland, New Zealand
07:00 AM
LESS

The Route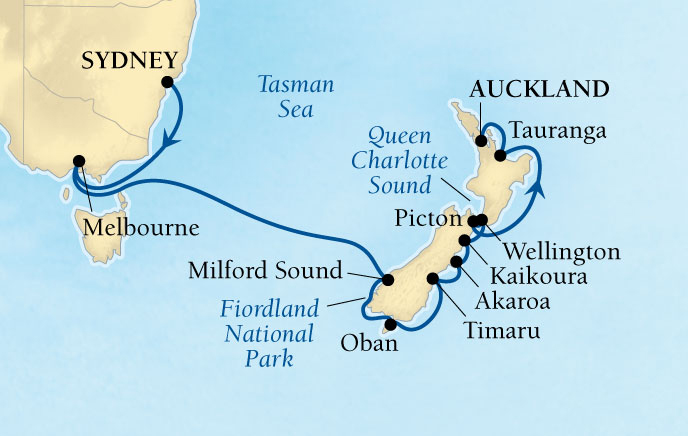 Start with our
vacation planner
so we can match you with our most suitable travel advisor. We do it all for you, air, car, accommodations, tours, you name, it in a seamless luxury vacation experience you will treasure for a lifetime.