The Experience
The town is your gateway to the famous "Land of Fire and Ice" – Iceland's dramatic landscape of volcanic craters, extinct lava lakes and majestic waterfalls.
Visitors to Akureyri have a hard time grasping the fact that the town lies just below the Arctic Circle. The climate here is temperate: flower boxes fill the windows of houses, and trees line the neat, well-tended avenues. Thanks to that mild climate, Akureyri's Botanical Gardens provide a home for over 2,000 species of flora from around the world – all surviving without greenhouses. No wonder Icelanders refer to Akureyri as the most pleasant town on the entire island.
Day
Port / Date
Arrive
Depart
Day 1

London (Southampton), England
Monday, September 8

5:00 PM
Day 2

At Sea
Tuesday, September 9

Day 3

Bergen, Norway
Wednesday, September 10

10:00 AM
6:00 PM
Day 4

Shetland Islands (Lerwick), Scotland
Thursday, September 11

7:00 AM
5:00 PM
Day 5

At Sea
Friday, September 12

Day 6

Akureyri, Iceland
Saturday, September 13

9:00 AM
6:00 PM
Day 7

Isafjordur, Iceland
Sunday, September 14

7:00 AM
6:00 PM
Day 8

Reykjavik, Iceland
Monday, September 15

7:00 AM
6:00 PM
Day 9

At Sea
Tuesday, September 16

Day 10

At Sea
Wednesday, September 17

Day 11

At Sea
Thursday, September 18

Day 12

St. Johns, Newfoundland
Friday, September 19

8:00 AM
5:00 PM
Day 13

At Sea
Saturday, September 20

Day 14

At Sea
Sunday, September 21

Day 15

New York City (Manhattan or Brooklyn), New York
Monday, September 22

7:15 AM
LESS

The Route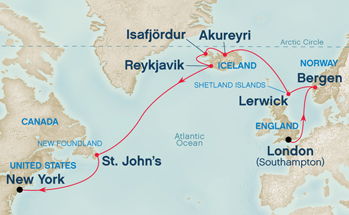 Start with our
vacation planner
so we can match you with our most suitable travel advisor. We do it all for you, air, car, accommodations, tours, you name, it in a seamless luxury vacation experience you will treasure for a lifetime.