The Experience
Called "Shee Atika" by the Tlingit Indians, then "New Archangel" by the Russians who ousted them, Sitka boasts a multicultural heritage. Two dozen of its attractions are on the National Register of Historic Places, including Castle Hill and Building 29, a structure built by the Russians in 1835. The Sheldon Jackson Museum exhibits one of Alaska's oldest native culture collections.
Day
Port
Arrive
Depart
01
Vancouver, Canada
6:00 p.m.
02
Cruising the Inside Passage
03
Sitka, Alaska
12:00 p.m.
7:00 p.m.
04
Juneau, Alaska
10:00 a.m.
7:00 p.m.
05
Cruising Hubbard Glacier
06
Skagway, Alaska
8:00 a.m.
5:00 p.m.
07
Icy Strait Point (Hoonah), Alaska
8:00 a.m.
4:00 p.m.
08
Ketchikan, Alaska
10:00 a.m.
8:00 p.m.
09
Cruising the Outside Passage
10
Victoria, Canada
12:00 p.m.
11:00 p.m.
11
Seattle, United States
7:00 a.m.
LESS

The Route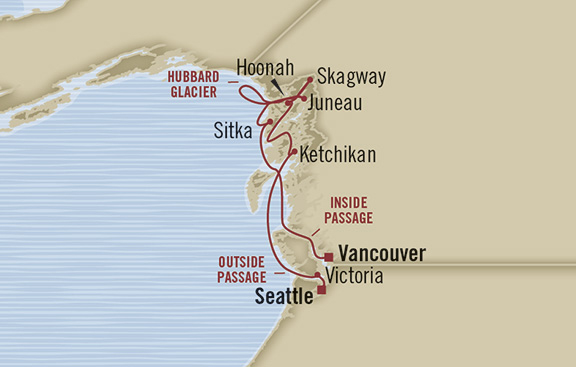 Start with our
vacation planner
so we can match you with our most suitable travel advisor. We do it all for you, air, car, accommodations, tours, you name, it in a seamless luxury vacation experience you will treasure for a lifetime.