The Experience
On this two-week cruise, you'll first call at the breathtaking isle of Bora Bora. Then it's on to the Tuamotus, specifically Fakarava, an atoll known for its pristine beaches, rare wildlife, and exceptional diving. Next, explore the mist-covered Marquesas, where you'll discover the islands of Fatu Hiva, Hiva Oa, Ua Huka, and Nuku Hiva. On these wild islands you'll find waterfalls, wild stallions, tiki sculptures, and an arboretum, among other delights. More enjoyment awaits on Taha'a (Motu Mahana), our own private motu, and a day at spectacular Moorea.
Day 1 Embark the m/s Paul Gauguin in Papeete, Tahiti
Begin your journey through paradise in the capital of Tahiti, the largest and most populated of the French Polynesian islands.
Day 2 At Sea
Spend the day enjoying the m/s Paul Gauguin's Polynesian ambience: casual, leisurely, and graceful. Perhaps you'll take in a lecture on local wildlife or history, then dine in the evening over classic French cuisine at L'Etoile.
Day 3 Fakarava
Explore the clear waters of Fakarava in the remote and pristine Tuamotus. The island is a sanctuary for rare birds, plants and crustaceans ," stroll the pink-sand beaches and you will view many of them. You may also want to visit the island's black pearl farm, or the ruins of the first church in French Polynesia built entirely of coral.
Day 4 At Sea
Take another day to enjoy shipboard life: relax poolside, watch the South Pacific slip by, play some table tennis, or take advantage of our Reading Library.
Day 5 Omoa, Fatu Hiva
Fatu Hiva is wild and spectacularly beautiful. The jungle greenery begins at the water's edge, with narrow ravines, deep gorges and luxuriant valleys briefly open to view as the boat glides past, close to the sheer cliffs that plunge straight down into the splashing surf.
Day 6 Atuona, Hiva Oa
Hiva Oa is an island marked by wild beauty and a somber bearing. The main town is Atuona, where Paul Gauguin is buried. You might visit the village of Puamau to see the largest stone sculptures of Marquesas. The are considered links to the tikis of Easter Island and Necker Island, north of Hawaii.
Day 7 Hapatoni, Tahuata
The smallest of the Marquesas archipelago, at only 19 square miles, Tahuata is a leaf-shaped volcanic island with sheer cliffs, white-sand beaches, lush vegetation, twin bays and a turbulent colonial history. You,™ll call on Hapatoni, a charming, seafront village with an ancient paved royal walkway shaded by tamanu trees. Visit the huge Catholic church, built by the Vatican and decorated with stunning stained-glass windows and beautiful local carvings. Admire traditional carvings at the crafts center. And enjoy fine swimming and snorkeling in the only Marquesas island edged by coral reef.
Day 8 Tiaohae, Nuku Hiva
As the governmental and economic center, Nuku Hiva is the most important island in the Marquesas. It's also stunningly beautiful, with three major bays on the south coast and similarly gorgeous inlets on the north coast as well.
Days 9-10 Cruise the Pacific Ocean
For the next two days will be at sea. You will have time to relax and enjoy the amenities of the m/s Paul Gauguin. Perhaps you will visit our award-winning spa, or listen to one of the lectures by our onboard experts.
Day 11 Huahine
Known as the wild, Society for its untamed, verdant forests, Huahine remains relatively untouched by modern development. Explore some of the abundant archaeological treasures ," ancient homes, buildings, and marae (stone platforms that served as places of worship) ," excavated and preserved throughout the island. Or dive in Huahine's crystalline lagoon, which teems with over 450 species of fish.
Day 12 Bora Bora
Bora Bora's lagoon is a must-see: this is your chance for a swim, snorkel or outrigger cruise. The lagoon is constantly replenished with ocean water from the swells that crash between sandy motus (small islets) and over the fringing reef.
Day 13 Taha'a (Motu Mahana)
Arrive at our South Seas paradise – featuring white sand beaches with swaying palms, crystal-clear waters and gentle breezes. As an exclusive Paul Gauguin event, guests will spend a full day exploring this idyllic, isolated island, and relaxing with a delicious barbecue lunch and Polynesian entertainment which features strolling musicians and singers.
Day 14 Moorea/Papeete, Tahiti
The island of Moorea's scenery is like a dream. Try out some exciting optional watersports like scuba diving among a host of interesting sea creatures ," including sea turtles, a staggering number of fish species such as barracuda, tuna, jackfish, red snapper, moray eels, trigger fish, various sizes and shapes of rays and more. At the end of the afternoon, we cruise to our home port in Papeete, docking there for the night.
Day 15 Disembark in Papeete
In the morning you'll disembark the m/s Paul Gauguin , capping off your epic journey through the South Pacific.
LESS

The Route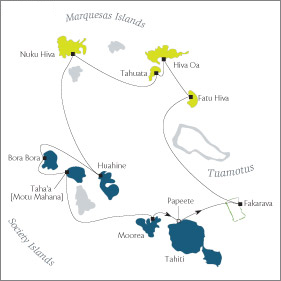 Start with our
vacation planner
so we can match you with our most suitable travel advisor. We do it all for you, air, car, accommodations, tours, you name, it in a seamless luxury vacation experience you will treasure for a lifetime.