The Experience
Savour an intense flavour of discovery on a cruise which takes you across the western Mediterranean over 12 nights.
After two days at sea you'll reach Lisbon. You may head for Belem and its incredibly ornate Jeranimos Monastery which has stood for over 500 years. Passing into the Mediterranean, you'll reach Gibraltar, famed for two things above all else: its Rock and its Barbary Apes. You can then satisfy your appetite for the quirky and colorful as you behold street performers and vendors on Barcelona's Las Ramblas and your taste for glamour in Monte Carlo's resplendent Prince's Palace. Having feasted your eyes on the Duomo that so memorably graces Florence, see Elba's more low-key pastel houses and forts, before Rome provides a final Italian treat.
We arrange tailor-made, life enriching Cunard Cruise vacations that will be visit the United Kingdom, Portugal, Spain, Monaco, Italy and Tuscany with VIP perks, cabin upgrades, privileged access, unbeatable international airfare rates and past passenger rates: Virtuoso Travel Advisors at your service.
Sun 8 Jun Southampton, UK
Embarkation
Mon 9 Jun At Sea
Tue 10 Jun At Sea
Wed 11 Jun Lisbon, Portugal
Arrive morning – Depart afternoon
Thu 12 Jun At Sea
Fri 13 Jun Gibraltar
Arrive early morning – Depart afternoon
Sat 14 Jun At Sea
Sun 15 Jun Barcelona, Spain
Arrive early morning – Depart early evening
Mon 16 Jun At Sea
Tue 17 Jun Monte Carlo, Monaco P
Arrive early morning – Depart afternoon
Wed 18 Jun Florence, Italy (from Livorno)
Arrive early morning – Depart early evening
Thu 19 Jun Elba, Tuscany A
Arrive early morning – Depart afternoon
Fri 20 Jun Rome, Italy (from Civitavecchia)
Disembarkation
LESS

The Route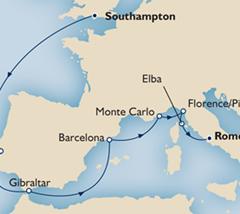 Start with our
vacation planner
so we can match you with our most suitable travel advisor. We do it all for you, air, car, accommodations, tours, you name, it in a seamless luxury vacation experience you will treasure for a lifetime.