The Experience
The dramatic Mount Otemanu stands watch over the sparkling turquoise waters and sugary sands of Bora Bora, known as the most romantic island in the world. Snorkel, swim with the manta rays or enjoy an outrigger canoe ride through the lagoon and its lovely coral islands.
Day
Port
Arrive
Depart
01
Papeete (Tahiti), French Polynesia
11:59 p.m.
02
Moorea, French Polynesia
8:00 a.m.
6:00 p.m.
03
Raiatea, French Polynesia
8:00 a.m.
6:00 p.m.
04
Bora Bora, French Polynesia
8:00 a.m.
5:00 p.m.
05
Rangiroa, French Polynesia
10:00 a.m.
7:00 p.m.
06
Fakarava, French Polynesia
8:00 a.m.
6:00 p.m.
07
Cruising the South Pacific
08
Cruising the South Pacific
09
Adamstown, Pitcairn Islands
8:00 a.m.
6:00 p.m.
10
Cruising the Pacific Ocean
11
Cruising the Pacific Ocean
12
Hanga Roa, Chile
8:00 a.m.
13
Hanga Roa, Chile
4:00 p.m.
14
Cruising the Pacific Ocean
15
Cruising the Pacific Ocean
16
Cruising the Pacific Ocean
17
Cruising the Pacific Ocean
18
Lima/Machu Picchu (Callao), Peru
6:00 a.m.
LESS

The Route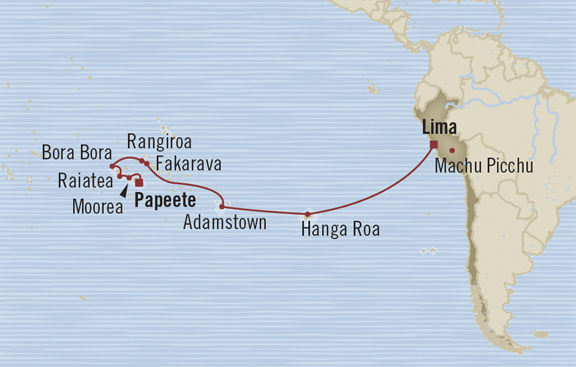 Start with our
vacation planner
so we can match you with our most suitable travel advisor. We do it all for you, air, car, accommodations, tours, you name, it in a seamless luxury vacation experience you will treasure for a lifetime.