The Experience
Enjoy the charming chaos and color of the hillside old quarter, or visit lovely nearby Viña del Mar and its famed floral clock.
A UNESCO World Biosphere Reserve since 1977, this island is home to one of the most highly endemic ecosystems in the world. Some of the most famous native species include the Juan Fernández fur seal and the Juan Fernández firecrown, a distinctive red hummingbird. Both species and the archipelago are named for the Spanish captain who landed on this group of islands in 1574. The sailor Alexander Selkirk was marooned here in 1704 and lived in solitude for over four years, inspiring the Daniel Defoe novel for which Robinson Crusoe Island is now named.
Day
Port
Arrive
Depart
01
Valparaiso, Chile
8:00 p.m.
02
Cruising the Pacific Ocean
03
Robinson Crusoe Island, Chile
8:00 a.m.
5:00 p.m.
04
Cruising the Pacific Ocean
05
Cruising the Pacific Ocean
06
Cruising the Pacific Ocean
07
Cruising the Pacific Ocean
08
Hanga Roa, Chile
8:00 a.m.
09
Hanga Roa, Chile
4:00 p.m.
10
Cruising the Pacific Ocean
11
Cruising the Pacific Ocean
12
Adamstown, Pitcairn Islands
8:00 a.m.
6:00 p.m.
13
Cruising the South Pacific
14
Cruising the South Pacific
15
Fakarava, French Polynesia
9:00 a.m.
6:00 p.m.
16
Rangiroa, French Polynesia
8:00 a.m.
5:00 p.m.
17
Bora Bora, French Polynesia
12:00 p.m.
18
Bora Bora, French Polynesia
5:00 p.m.
19
Papeete (Tahiti), French Polynesia
7:00 a.m.
LESS

The Route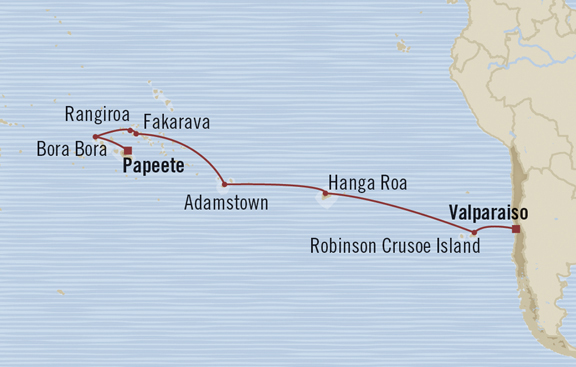 Start with our
vacation planner
so we can match you with our most suitable travel advisor. We do it all for you, air, car, accommodations, tours, you name, it in a seamless luxury vacation experience you will treasure for a lifetime.