The Experience
According to the popular 1960 beach movie, Fort Lauderdale is "where the boys are." The city's reputation as America's Spring Break capital, however, has been replaced with the more favorable image of a prime family tourist destination, attracting more than 10 million visitors annually. The most popular beach resort in Florida is even more rightly famed as the "Yachting Capital of the World," with more than 40,000 registered crafts calling its waters home. The city also prides itself on being the "Venice of America" with more than 300 miles of navigable waterways. Fort Lauderdale boasts world-class theaters, museums, sightseeing, and shopping.
The city sits 24 miles north of Miami and is named after a series of forts built by the United States during the second Seminole War. The forts took their name from Major William Lauderdale, who was the commander of the detachment of soldiers who built the first fort. Look hard and you might find remnants of three of them today. More people seem to be interested in taking a water tour aboard the "Carrie B."
Day
Port / Date
Arrive
Depart
Day 1

Ft. Lauderdale, Florida
Tuesday, April 28

4:00 PM
Day 2

At Sea
Wednesday, April 29

Day 3

At Sea
Thursday, April 30

Day 4

Curacao
Friday, May 1

10:00 AM
7:00 PM
Day 5

At Sea
Saturday, May 2

Day 6

Cartagena, Colombia
Sunday, May 3

7:00 AM
1:00 PM
Day 7

Panama Canal, Panama (Full Transit)
Monday, May 4

5:00 AM
4:30 PM
Day 8

At Sea
Tuesday, May 5

Day 9

Puerto Quepos, Costa Rica
Wednesday, May 6

6:00 AM
5:00 PM
Day 10

At Sea
Thursday, May 7

Day 11

At Sea
Friday, May 8

Day 12

At Sea
Saturday, May 9

Day 13

At Sea
Sunday, May 10

Day 14

Topolobampo, Mexico
Monday, May 11

6:00 AM
10:00 PM
Day 15

Cabo San Lucas, Mexico
Tuesday, May 12

10:00 AM
6:00 PM
Day 16

At Sea
Wednesday, May 13

Day 17

At Sea
Thursday, May 14

Day 18

Los Angeles, California
Friday, May 15

7:00 AM
LESS

The Route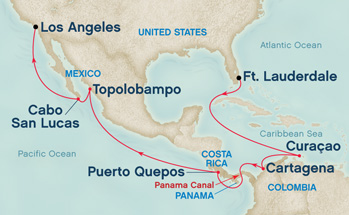 Start with our
vacation planner
so we can match you with our most suitable travel advisor. We do it all for you, air, car, accommodations, tours, you name, it in a seamless luxury vacation experience you will treasure for a lifetime.