The Experience
The former capital of New Britain has a history of destruction and resurrection – the city rebuilt after a massive 1937 volcanic eruption only to be destroyed by Allied bombing in World War II. In 1994, the eruption of Mt. Tavurvur dropped hot ash and rock on Rabaul, leading to its partial abandonment. Since that cataclysm, the city has slowly returned to life – hotels have resumed operating, the market continues to trade, and the harbor remains one of the most impressive in the entire Pacific basin.
During World War II, Rabaul served as a forward operating base for the Imperial Japanese Army and Navy. Allied bombing forced the Japanese defenders underground, into a complex system of bunkers and tunnels on the Gazelle Peninsula.
Day
Port / Date
Arrive
Depart
Day 1

Sydney, Australia
Tuesday, June 23

4:00 PM
Day 2

At Sea
Wednesday, June 24

Day 3

Brisbane, Australia
Thursday, June 25

8:00 AM
6:00 PM
Day 4

At Sea
Friday, June 26

Day 5

At Sea
Saturday, June 27

Day 6

Doini Island, Papua New Guinea
Sunday, June 28

7:00 AM
5:00 PM
Day 7

Kiriwina Island, Papua New Guinea
Monday, June 29

8:00 AM
6:00 PM
Day 8

Alotau, Papua New Guinea
Tuesday, June 30

7:00 AM
6:00 PM
Day 9

At Sea
Wednesday, July 1

Day 10

Rabaul, Papua New Guinea
Thursday, July 2

8:00 AM
6:00 PM
Day 11

At Sea
Friday, July 3

Day 12

Guadalcanal (Honiara), Solomon Islands
Saturday, July 4

7:00 AM
6:00 PM
Day 13

At Sea
Sunday, July 5

Day 14

At Sea
Monday, July 6

Day 15

At Sea
Tuesday, July 7

Day 16

Sydney, Australia
Wednesday, July 8

7:00 AM
LESS

The Route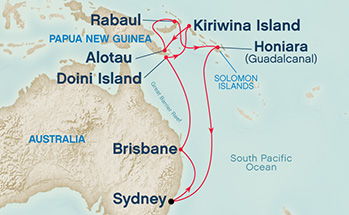 Start with our
vacation planner
so we can match you with our most suitable travel advisor. We do it all for you, air, car, accommodations, tours, you name, it in a seamless luxury vacation experience you will treasure for a lifetime.