The Experience
Explore Lima's wonderful museums and visit the famed Cathedral of Lima and the Archbishop's Palace on the city's majestic main square. Take a flight to Machu Picchu, known as the "Lost City of the Incas" and South America's most intriguing archaeological site. Built in the 15th century by the Incas and perched 7,875 feet above sea level, this extraordinary UNESCO World Heritage Site features stone buildings once used as temples, sanctuaries, homes and water fountains. Also enchanting is the colonial city of Cuzco with its majestic Plaza de Armas and the ancient Incan fortress of Sacsayhuaman.
DAY
PORT
ARRIVE
DEPART
01
Lima/Machu Picchu (Callao), Peru
7:00 p.m.
02
Pisco/Nazca Lines, Peru
8:00 a.m.
2:00 p.m.
03
Arequipa (Matarani), Peru
12:00 p.m.
10:00 p.m.
04
Iquique, Chile
1:00 p.m.
9:00 p.m.
05
Cruising the Pacific Ocean
06
Coquimbo, Chile
1:00 p.m.
8:00 p.m.
07
Valparaiso, Chile
9:00 a.m.
7:00 p.m.
08
Cruising the Pacific Ocean
09
Puerto Montt, Chile
8:00 a.m.
5:00 p.m.
10
Puerto Chacabuco, Chile
11:00 a.m.
9:00 p.m.
11
Cruising the Chilean Fjords
12
Cruising the Chilean Fjords
13
Punta Arenas, Chile
5:00 a.m.
5:00 p.m.
14
Ushuaia, Argentina
12:00 p.m.
8:00 p.m.
15
Cruising the Atlantic Ocean
16
Port Stanley, Falkland Islands
8:00 a.m.
5:00 p.m.
17
Cruising the Atlantic Ocean
18
Cruising the Atlantic Ocean
19
Montevideo, Uruguay
8:00 a.m.
8:00 p.m.
20
Buenos Aires, Argentina
9:00 a.m.
21
Buenos Aires, Argentina
LESS

The Route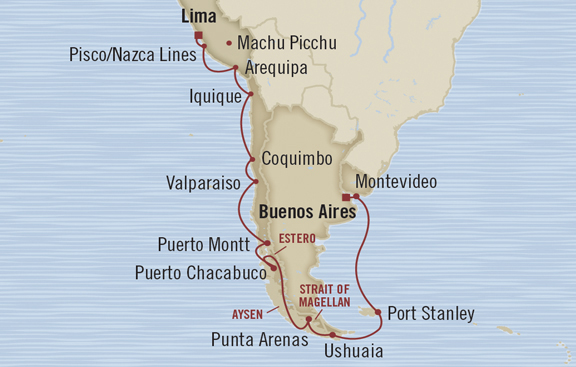 Start with our
vacation planner
so we can match you with our most suitable travel advisor. We do it all for you, air, car, accommodations, tours, you name, it in a seamless luxury vacation experience you will treasure for a lifetime.