The Experience
Follow in the wake of explorers on this comprehensive cruise. Begin in the spectacularly beautiful Society Islands, home waters of The Gauguin, and sail on to the Cook Island of Aitutaki, with its unique culture and exquisite lagoon. Cross the International Date Line en route to the islands of Vavau, Tonga, with their spectacularly clear waters brimming with colorful marine life. Your captain next charts a course to legendary Fiji, where you'll visit the country's cultural centers along with more remote destinations. Contrast Savsavu, sometimes called the Hidden Paradise of Fiji,, with lovely Suva, Fiji's bustling capital, where you'll discover a blend of Polynesian flair and European sophistication. And enjoy a true escape from everyday cares on the remote, family-owned Malolo Island before arriving in the Sugar City, Lautoka, the heart of Fiji's sugarcane-growing region, where your cruise draws to a close.
Day 1 Embark the m/s Paul Gauguin in Papeete, Tahiti
Begin your journey to paradise in the capital of Tahiti. Here, you'll embark your home for the next 13 nights: the luxurious yet casual m/s Paul Gauguin. The ship sets sail late this evening.
Day 2 Moorea
Moorea,™s lush scenery is like something out of a dream: spectacular mountain peaks cloaked in lush vegetation, an abundance of fresh fruits and flowers, and peaceful multi-hued lagoons framed by palm-fringed beaches. Spend the day reveling in the island,™s unsurpassed beauty and wealth of activities. Perhaps you,™ll take an optional air-conditioned coach ride around the island to admire the stunning views.
Day 3 Taha'a (Motu Mahana), Society Islands
Motu Mahana, an islet adjacent to Taha,™a, is our very own South Seas paradise featuring white-sand beaches with swaying palms, crystal-clear waters, and gentle breezes. As an exclusive Paul Gauguin event, you will have a full day to relax on this idyllic, isolated island, enjoying swimming, snorkeling, and kayaking, or simply relaxing on the beach with a beverage from the floating bar. Les Gauguines will also be on hand to provide musical entertainment and demonstrate traditional Polynesian crafts. And savor a delicious barbecue lunch of fresh Polynesian specialties and popular Western fare.
Day 4 Bora Bora
Ancient Polynesians called Bora Bora Parapora, or "firstborn," because they thought it was the first island created after Raiatea. Enjoy another day to delve into its exotic beauty and culture. Perhaps you,™ll take advantage of complimentary swimming and snorkeling on our private beach on a motu off the main island. Or explore the island by land or sea on a range of shore excursions.
Day 5 At Sea
Today, take advantage all the The m/s Paul Gauguin has to offer. Perhaps you'll enjoy a massage at our luxurious spa or relax on the Pool Deck with a drink at Le Grille.
Day 6 Aitutaki, Cook Islands
Only eight square miles in area, the Cook Island of Aitutaki is so flat, you can spot the ocean from nearly any point. Coconut, pineapple, banana, and tapioca plantations are sprinkled throughout the island, which is surrounded by coral reefs that enclose an especially large and exquisite turquoise lagoon. Bask in the sun and enjoy breathtaking views of the shimmering lagoon during an optional boat cruise and beach visit. Or venture to a nearby marine reserve for some snorkeling.
Days 7-8 At Sea / Cross International Date Line
You have two days to enjoy The Gauguin,™s Polynesian ambiance: casual, leisurely, and elegant. Perhaps you,™ll work out in the fitness center and later enjoy specialties inspired by one of the top chefs of Paris over dinner in La Veranda.
Day 9 Vava'u, Tonga
One of the easternmost countries in the world, nudging the International Date Line, the Kingdom of Tonga was never colonized by Europeans, a distinction it shares with no other South Pacific nation. As a result, today it is the oldest and last remaining Polynesian monarchy, and its culture remains strong, even in the face of modernization. One of the Kingdom of Tonga,™s three main island groups, the islands of Vava,™u are renowned for their colorful coral reefs, white-sand beaches, and lagoon so clear, you can see to a depth of 130 feet. Perhaps you,™ll join a shore excursion to Swallows Cave, a famous bird sanctuary. Or discover the calm waterways by sea kayak.
Day 10 At Sea
Spend another day enjoying shipboard life: take a dip in the pool, watch the South Pacific pass by, play some table tennis, or read up on our next port at the Reading Gallery. And enjoy live entertainment in Le Grand Salon after a sumptuous gourmet dinner at L,™Etoile.
Day 11 Savusavu, Vanua Levu, Fiji
In Fiji, virtually everyone you,™ll meet will be smiling and when you view the high mountains, lush vegetation, shimmering waters, and pristine white-sand beaches of this island nation, you,™ll understand why. The island of Vanua Levu in northern Fiji remains largely undeveloped, making it a charming, unspoiled haven. It is the second-largest of Fiji,™s 300 islands, and, because of its remoteness, it is reminiscent of the South Seas before European discovery. Largely unchanged over the past 30 years, the village of Savusavu is sometimes called the Hidden Paradise of Fiji,, with its single, half-mile-long main street facing a fantastically beautiful bay. In the afternoon, you can see pots on top of steaming fissures as women prepare the evening meal on the hot springs that bubble up throughout the town. Explore at your leisure, or join one of many available shore excursions, such as a visit to a black-pearl farm, a Fijian village, or a plantation.
Day 12 Suva, Viti Levu, Fiji
The capital of Fiji since 1883, Suva is located on rugged Viti Levu, the largest of the island chain and home to 75% of the country,™s population. Suva itself is the largest urban area in the South Pacific outside of Australia and New Zealand. Perched on a hilly peninsula between two harbors, it boasts a fascinating mix of modern and colonial architectural, as well as a sophisticated ambiance. On your own, perhaps you,™ll visit the Fiji Museum or Handicraft Centre, or stroll the Victoria Parade, the city,™s main street. Or join a shore excursion for a walk through the rain forest, a round a golf, a diving expedition, and more.
Day 13 Malolo Island, Fiji / Lautoka, Viti Levu, Fiji
Rising just a few feet above sea level, Malolo is a remote and rustic getaway owned by a Fijian family. Take advantage of the opportunity to truly get away from it all as you admire the golden-sand beaches, swaying palms, and azure skies ,¦ marvel at the phenomenal snorkeling, with an abundance of tropical fish inhabiting local reefs ,¦ take in sweeping sea views from the comfort of a double hammock ,¦ and enjoy true Fijian hospitality, offered by villagers whose ancestry here dates back thousands of years. Late this afternoon, The Gauguin sails to Lautoka, where you will overnight on board.
Day 14 Disembark in Lautoka
In the morning, you,™ll have brunch aboard ship in Lautoka before disembarking for your return home.
LESS

The Route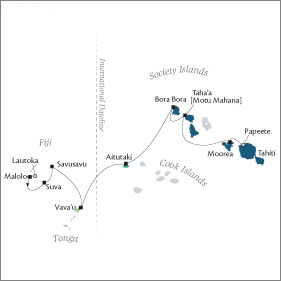 Start with our
vacation planner
so we can match you with our most suitable travel advisor. We do it all for you, air, car, accommodations, tours, you name, it in a seamless luxury vacation experience you will treasure for a lifetime.