The Experience
Sail the British Isles at the peak of summer, with ten late night or overnight stays to immerse yourself in gorgeous landscapes and exciting cities. For golf lovers, heaven awaits with options to play seven renowned courses and attend two days of the British Open at famous St. Andrews (tickets optional for added cost).
Non-golfers will be in heaven too, with unrushed days to explore green countryside, castles and gardens, with rest stops at historic pubs, distilleries and restaurants. And what a fine mix of cities: Dublin, Liverpool, Belfast, Glasgow and Edinburgh, each with its unique historic character. For outdoor lovers, the scenic wonders are beyond compare. Bring good walking shoes for Chester's Roman walls, the breathtaking Lake District, the seaside promenade of Douglas, Loch Ness and Inverewe Garden in the Scottish Highlands, and seldom-visited Isle of Lewis. Book soon; this voyage will fill up fast.
Date
Port/City
Activity
Arrival
Depart
SAT 4-JUL
Southampton, England
Embark
6:00 pm
SUN 5-JUL
St. Peter Port, Guernsey, Channel Islands
Tendered
8:00 am
1:00 pm
MON 6-JUL
Cork (Cobh), Ireland
Docked
8:30 am
7:30 pm
TUE 7-JUL
Dublin, Ireland
Docked
8:00 am
10:30 pm
WED 8-JUL
Liverpool (Lake District), England
Docked
8:00 am
11:00 pm
THU 9-JUL
Douglas, Isle of Man
Tendered
8:00 am
9:00 pm
FRI 10-JUL
Belfast, Northern Ireland
Docked
6:00 am
11:00 pm
SAT 11-JUL
Glasgow, Scotland
Docked
7:00 am
8:00 pm
SUN 12-JUL
Portree, Isle Of Skye, Scotland
Tendered
2:00 pm
10:00 pm
MON 13-JUL
Stornoway (Isle Lewis), Scotland
Tendered
7:00 am
3:30 pm
TUE 14-JUL
Invergordon, Scotland
Docked
7:00 am
8:00 pm
WED 15-JUL
Leith (Edinburgh), Scotland
Docked
3:15 pm
THU 16-JUL
Leith (Edinburgh), Scotland
Docked
FRI 17-JUL
Leith (Edinburgh), Scotland
Docked
SAT 18-JUL
Leith (Edinburgh), Scotland
Debark
LESS

The Route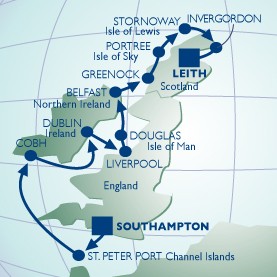 Start with our
vacation planner
so we can match you with our most suitable travel advisor. We do it all for you, air, car, accommodations, tours, you name, it in a seamless luxury vacation experience you will treasure for a lifetime.