The Experience
Treat yourself to a luxurious, pampered journey covering ten cities, eight countries, and six UNESCO World Heritage Sites with a curated collection of five-star hotels to serve as your basecamp. You'll soak up the Old World charm of Germany, Slovenia, Poland, Russia, Azerbaijan, Latvia, Montenegro and the Czech Republic while taking the pulse of modern-day affairs. From the ancient structures of the medieval walled city of Baku to the imperial glory and Soviet monuments of Moscow, the unexplored beauty of Ljubljana to the cosmopolitan grace of Prague, and the arousing promise of Berlin to the Art Nouveau splendor of charming Riga, this is a truly singular expedition. Traveling by private jet across Eastern Europe and beyond, you'll enjoy 20 unforgettable days filled with history, culture and culinary delight.
See the Reichstag, the striking glass-domed building where the German Parliament, the Bundestag meets. building where the German parliament, the Bundestag, meets
Take a daytrip to the city of Bled, renowned for its gorgeous scenery and namesake-lake. renowned for its gorgeous scenery and its namesake lake
Enjoy a walking tour of Kraków's Old Town and visit St. Mary's Basilica. and visit St. Mary's Basilica
From Riga, stop in Kotor, Montenegro, just in time for lunch.
Cruise the Vltava River through the heart of Prague.
In the heart of Moscow visit the Kremlin and Armory and Red Square. Square in Moscow
Azerbaijan highlights include the walled city with Shiranshah's Palace and Maiden Tower. walled city with Shirvanshah's Palace and Maiden Tower
See City Hall Square, St. Peter's Church and the oldest homes, the Three Brothers. Church and the Three Brothers, the oldest homes in Riga
Explore Prague's Old Town Square and experience the city's diverse architecture.
Day 1London, England
Upon arrival you are escorted to your luxury hotel. Tonight, attend a private cocktail and dinner party with your Travcoa Travel Director and fellow guests to learn about the incredible journey ahead. London is the perfect place to begin your unforgettable journey by private jet. If time allows, explore your hotel's plush neighborhood.
Award-winning hotel Claridge's, London
Award-winning hotel Four Seasons Hotel at Park Lane, London
Day 2 – 4Berlin, Germany
Berlin is a city of history and achievement that rose like a phoenix from the ashes of the Nazi movement and the tumbled stones of the Berlin Wall. Today it brims with fascinating sights from the Brandenburg Gate and the Schloss Charlottenburg to the Berlin Wall and Holocaust Memorials. While in Berlin, a must-see attraction is the remarkable Reichstag. Our guided visit includes the roof terrace and phenomenal glass dome. This prominent landmark, built to signify the reunification of Germany, is accessed via two spiral ramps. And we'll drive to Potsdam to take in its incredible ensemble of palaces and parks—a UNESCO World Heritage Site.
Hotel de Rome, Berlin
Day 5 – 6Ljubljana, Slovenia
On Day 5 we arrive in the capital of Slovenia, bordered by Italy, Austria, Hungary and Croatia. The capital city, Ljubljana, founded in Roman times, boasts a storied past that is revealed at the National Museum of Slovenia. Our cameras will be clicking from the Triple Bridge to the National Gallery of Slovenia and Tivoli Park.
The following day finds us exploring the countryside northwest of the capital. Our day-trip to Bled, a dazzling alpine city on its namesake lake, may be one of the most beautiful places you'll ever see. Who can forget the iconic Bled Castle and the island in the middle of the lake?
Hotel Cubo, Ljubljana
Vander Urbani Resort, Ljubljana
Day 7 – 8Kraków, Poland
We will take a walking tour through Kraków's Old Town, a UNESCO World Heritage Site and time capsule of medieval times. Our guide shows us Europe's largest market square, the Royal Wawel Castle and numerous historic houses and palaces plus the jaw-dropping beauty of St. Mary's Basilica.
On Day 8, our options include tours of Auschwitz, the haunting Nazi concentration camp where over a million Jews lost their lives. A journey through the Wieliczka Salt Mine reveals dozens of statues, three chapels and an entire cathedral—all carved out of rock salt! And we can tour greater Kraków for an immersion in Polish culture.
Sheraton Kraków Hotel, Kraków
Day 9 – 11Moscow, Russia
History buffs have a field day in Moscow, Russia's political, financial and cultural capital. Our guided tour begins with extraordinary places like the Kremlin Armory, one of the oldest museums in the city, the massive and imposing Red Square and the mind-boggling swirl of ice cream-colored towers and domes that is St. Basil's Cathedral.
We marvel at the Bolshoi, the monumental architecture of the Soviet period and capture great photos of the towering contemporary skyline. With three full days in this vibrant city we have the opportunity to also tour the gold-domed New Maiden's Convent, circa 17th century and a UNESCO World Heritage Site. We can also take a relaxing cruise of the Moscow River and applaud a lavish performance on an historic theatrical stage.
The Ritz-Carlton Moscow, Moscow
Day 12 & 13Baku, Azerbaijan
With the Caspian Sea to the east, Russia to the north, Georgia to the northwest, Armenia to the west, Iran to the south and a short borderline with Turkey, Azerbaijan is a cultural melting pot. The capital of Baku was formerly a Persian capital, a booming oil town and a Soviet republic and it is just as intriguing today.
Built on a site inhabited since the Paleolithic period, the Walled City is a UNESCO World Heritage Site known for its 12th century Maiden Tower, and the 15th century Shiranshahs' Palace—an architectural gem.
Fairmont Baku, Baku
Four Seasons Hotel Baku, Baku
Day 14 & 15Riga, Latvia
The largest city in the Baltics, Latvia is a destination on the rise. A sovereign nation since 1991, it shares borders with Estonia, Lithuania, Russia, Belarus and Sweden and spotlights its capital's UNESCO World Heritage Site designation.
We begin our explorations on a walking tour of Old Riga to discover Europe's finest collection of Art Nouveau buildings. Getting the lay of the land, we follow the lead of our professional guide to the Riga Art Nouveau Centre, City Hall Square, St. Peter's Church and the Three Brothers, the oldest homes in Riga, with expert commentary along the way.
Part of the pleasure of our Latvian exposure is the opportunity to dine on local cuisine. With so many culinary influences it's difficult to pin down where traditional dishes originated. But most restaurants carry delicious Latvian meat pies, pork with sauerkraut, and a tangy meat and potato salad.
Grand Palace Hotel, Riga
Day 16 – 19Kotor, Montenegro & Prague, Czech Republic
On Day 16 we stop in Kotor on Boka Bay, simply one of the world's most beautiful fjords. The old city of Kotor vies for our attention as a UNESCO World Heritage Site. We arrive just in time for lunch, eager to sample the pasta dish called "njoke," a thick fish soup and "frustula," a sweet cookie with a delightful crunch.
Our three-night stay in Prague, the capital of the Czech Republic, has much to enthrall. Known as the city of a hundred spires, Prague is the historical capital of Bohemia and a UNESCO World Heritage Site. We explore Old Town Square and journey back in time through the halls of Romanesque, Baroque and Gothic style buildings. And for a special treat, we enjoy a leisurely cruise along the Vltava River for stunning views of breathtaking Prague.
Award-winning hotel Four Seasons Hotel, Prague
Award-winning hotel Mandarin Oriental Prague, Prague
Day 20London & Depart for Home
On Day 20, you will fly back to London for a relaxing overnight before being transferred to the airport for your flight home or on to your next destination.
Award-winning hotel Claridge's, London
Award-winning hotel Four Seasons Hotel at Park Lane, London
LESS

The Route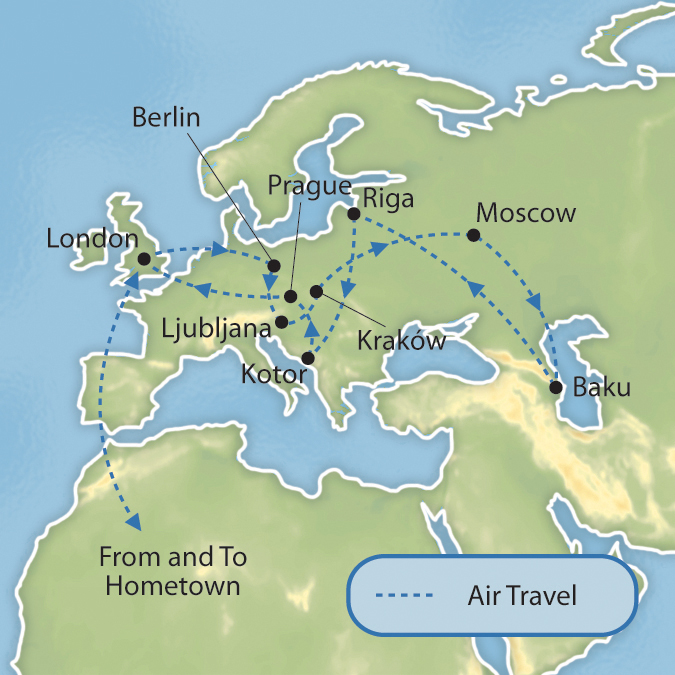 Start with our
vacation planner
so we can match you with our most suitable travel advisor. We do it all for you, air, car, accommodations, tours, you name, it in a seamless luxury vacation experience you will treasure for a lifetime.