The Experience
This cruise along the legendary rivers of Europe showcases a number of cultural and scenic highlights in Hungary, Slovakia, Austria, Germany, Luxembourg and France. You will experience three grand old capitals, " Budapest, Bratislava and Vienna," interspersed with charming towns, steeply terraced hillside vineyards, ancient fortresses and spectacular vistas.
Discover medieval cities along the Main River, cruise through the most scenic portion of the Rhine, and continue on through the lush Mosel River Valley, famous for its historic castles and incredible wine. Conclude your river cruise vacation in beautiful Paris, the timeless City of Lights.,
Day 1
DEPART USA/CANADA
Board your overnight flight to Paris, France.
Day 2
ARRIVE PARIS, FRANCE
Arrive in Paris and check-in to your hotel. The remainder of the day is at your leisure.
Day 3
PARIS
Enjoy the city's most famous sights during your guided tour this morning. You will visit Notre Dame Cathedral and see the Louvre, the Arc de Triomphe, Opera, La Madeleine, the Champs Elysees and much more. The remainder of the day is yours to explore on your own. In the evening, an optional Parisian Cabaret Dinner Show is available, one of the most popular entertainments the city offers. (B)
Day 4
PARIS
Enjoy a full free day to explore the amazing City of Lights,, where romance fills the air. Stroll along the Champs Elysees, browse quaint boutiques, or have a coffee and croissant at a typical Parisian cafe. An optional Seine Cruise & Eiffel Tower, tour and optional Montmartre & Illuminations, tour are also available. (B)
Day 5
PARIS – LUXEMBOURG – EMBARKATION
Bid au revoir, to Paris as you board your TGV high-speed train to Metz. You will then transfer to Luxembourg, one of Europe's last independent duchies. You will have a guided tour of Luxembourg before transferring to the ship. Tonight, gather on board for a Welcome Dinner. The ship departs late tonight for Trier. (B,D)
Day 6
TRIER, GERMANY ," BERNKASTEL
Early this morning, the ship arrives in the charming village of Trier, Germany's oldest city. You will have a guided tour that will introduce you to the city's rich Roman past, with stops at the Roman amphitheater, Roman Baths, Basilica of Constantine and Porta Nigra ," an ancient Roman gate that dates back to 180 A.D. Continue on to Bernkastel, a town in the Mosel wine-growing region that has been making wine for over 500 years. After arriving this evening, you will visit a vineyard and sample several wines, and also take a guided walking tour through the old town center with its many medieval and Renaissance buildings. The ship departs later this evening. (B,L,D)
Day 7
ALKEN – COCHEM OR KOBLENZ ," RHINE CASTLES ,"
Today, decide between an excursion to Cochem or to Koblenz. In Cochem, you will take a guided tour of the spectacular hilltop Reichsburg Castle, which offers fascinating views of the river valley. Another option is to travel to Koblenz, a historic wine-growing town, where you will see the Four Towers, the Church of Our Lady, and hear the story behind the Sche¤ngel Fountain and City Hall. A guided bike tour of Koblenz is also available. Rejoin the ship in Koblenz and cruise to Rüdesheim, where you will visit the Siegfried's Mechanical Musical Instrument Museum after dinner. The ship moors overnight in Radesheim. (B,L,D)
Day 8
RUDESHEIM ," MAINZ
The ship arrives after noon today in beautiful Mainz, where you will visit the famous Gutenberg Museum, home of the world's first printed bible. Alternatively, join an excursion to Heidelberg, Germany's oldest university town, where you can visit the red-walled Castle, enjoy gorgeous views of the Neckar Valley, and see the Great Vat, a 49,000-gallon 18th-century wine cask. A guided bike tour is also available. Later this afternoon, the ship leaves Mainz and cruises to Wertheim. (B,L,D)
Day 9
WERTHEIM
Arrive in charming Wertheim early this afternoon, where you will have a guided walking tour and free time to explore on your own. If you are feeling active, a guided bicycle tour is also available (capacity controlled). Later this evening, your ship sets sail for an overnight cruise to Walrzburg. (B,L,D)
Day 10
WARZBURG – KITZINGEN
This morning, take a guided tour of Warzburg showing you all of the major sights or visit the Residenz Palace and gardens, a designated UNESCO World Heritage Site and one of Europe,™s best examples of Baroque architecture. This afternoon, you may also take an optional tour along the Romantic Road to medieval Rothenburg. With its old city walls, towers, gates, timber-framed buildings and centuries-old churches, a walking tour of this charming town is a sheer delight. You will have free time here to shop at a well-known Christmas boutique, filled with a tempting array of handmade German ornaments and decorations. If you prefer, join a guided bike tour (capacity controlled). The ship departs after lunch and arrives in Kitzingen in the evening. Kitzingen's Aulic Council and Wine Queen will welcome you at the pier and escort you to Germany's oldest wine cellar, where you can sample several different regional wines. The ship cruises to Bamberg overnight. (B,L,D)
Day 11
BAMBERG
Arrive this afternoon in enchanting Bamberg, a UNESCO World Heritage Site. Your guided walking tour of this medieval gem includes the town's breathtaking cathedral, the Old Town Hall that straddles the river, serpentine streets, and gracious 18th-century mansions. You will also sample some of Bamberg's famous smoked beer. An alternative is a guided bike tour of the local area (capacity controlled). This evening, the ship cruises to Nuremberg. (B,L,D)
Day 12
NUREMBERG
Today, you will travel by train from Nuremberg to Munich, the capital of Bavaria and one of Germany's largest cities. Your guide will offer suggestions on what to see during your free time in town and will take you to lunch in a local restaurant. Back on board the ship tonight, you will meet newly arrived travelers embarking from Prague. (B,L,D)
Day 13
NUREMBERG
This morning, you will have an opportunity to explore the medieval history of Nuremberg. You will see the 900-year-old city ramparts, the Imperial Castle, and the Old Town Hall. As an alternative, opt for the WWII, tour that includes the infamous Zeppelin field Hitler used to stage his Nazi party rallies and the Justice Palace courtroom where the War Crimes Tribunal sat in 1946 (available when court is not in session). The ship departs early afternoon for Regensburg. (B,L,D)
Day 14
REGENSBURG
This morning's scenic cruising takes you through the final stretch of the Main-Danube Canal en route to Regensburg, one of Germany's best preserved medieval cities. A guided tour will show you the city's architectural highlights, including the Old Town Hall and the Porta Praetoria ," the gate to an ancient Roman fort built in 179 AD. As an alternative, visit the Audi Factory in Ingolstadt, where a member of the Audi team will take you on a guided tour of the Audi Car Museum or the production line (subject to availability). This afternoon, you are welcome to join an optional excursion to beautiful Weltenburg Abbey and see the dramatic Danube Gorge (if conditions permit), or take a guided bike tour to the Walhalla Temple, which honors a number of distinguished Germans. We leave Regensburg later this evening and cruise towards Passau. (B,L,D)
Day 15
PASSAU ," LINZ, AUSTRIA
After breakfast, the ship will arrive in the picturesque city of Passau, where the Inn and Ilz rivers join the Danube. You have your choice of two tours today. The first is a walking tour of Passau, a 2,000-year-old city noted for its Gothic and Italian Baroque architecture. You will stroll the cobblestone streets of the Old Town, see the city's fortifications, and stop at St. Stephan's Cathedral, home to the largest pipe organ in the world. If you prefer, take an optional excursion to Salzburg, famous as the setting for The Sound of Music, and as the birthplace of Mozart. Enjoy free time in this lovely Alpine city on your own, then return to the ship now docked in Linz. After dinner, enjoy a leisurely walk through this delightful town. The ship departs around midnight for Melk. (B,L,D)
Day 16
MELK ," VIENNA
Cruise through the narrow Strudengau and reach the Wachau Valley early this morning. Your guided tour takes you to Melk's magnificent Benedictine Abbey, which has a medieval library that inspired Umberto Eco's novel The Name of the Rose. Return to the ship for lunch and enjoy the views as the ship cruises through the romantic Wachau Valley. Arrive in Vienna this evening and either explore the magnificent Austrian capital on your own or enjoy an optional evening Mozart and Strauss concert. The ship moors in Vienna overnight. (B,L,D)
Day 17
VIENNA
Savor Vienna's Baroque elegance on your guided city tour, which includes the world famous Vienna Opera House, the Ringstrasse, St. Stephen's Cathedral and more. The tour is followed by free time in the city center to shop for souvenirs or sample some of Vienna's famous pastries (such as the sinfully rich sachertorte). As an alternative, join an optional tour to Schonbrunn Palace, former summer home of the Hapsburgs and a fine example of Baroque architecture. The ship leaves this evening and cruises to Budapest. (B,L,D)
Day 18
BUDAPEST, HUNGARY
This morning, a sightseeing tour takes you to historic Buda Castle, which offers a splendid view of the twin cities of Buda and Pest. Your tour also features the Fisherman's Bastion, the Royal Palace, St. Stephen's Basilica, Heroes' square and more. After dinner, the ship will sail a special Illuminations Cruise, past the stunning river front of Budapest. The ship moors overnight in Budapest. (B,L,D)
Day 19
BUDAPEST – DISEMBARKATION
This morning, transfer from the ship to your hotel and spend the rest of the day exploring the city on your own. An optional excursion to Puszta is also available. (B)
Day 20
BUDAPEST
The day is yours to explore beautiful Budapest. You may choose to visit one of the city,™s famous museums, enjoy a stroll down Andressy Avenue, visit the colossal Central Market Hall, or take a trip to the Ecseri Flea Market. (B)
Day 21
DEPART BUDAPEST
Bid farewell to Budapest and prepare for your homeward flight. (B)
LESS

The Route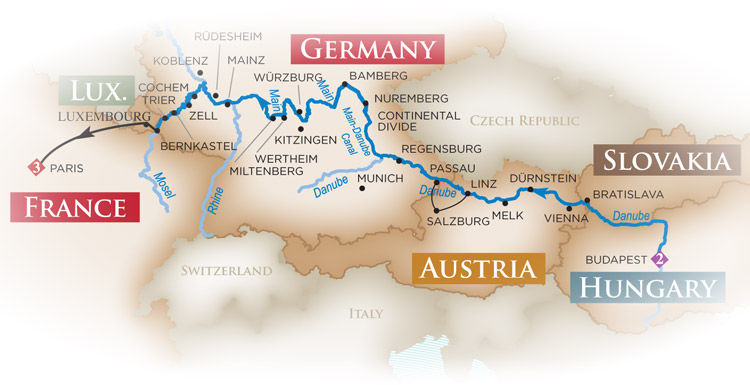 Start with our
vacation planner
so we can match you with our most suitable travel advisor. We do it all for you, air, car, accommodations, tours, you name, it in a seamless luxury vacation experience you will treasure for a lifetime.