The Experience
The Principality of Monaco is an independent sovereign state composed of four quarters Fontvieille (the newest), Monaco-Ville (the oldest), La Condamine, and Monte Carlo. Monte Carlo is widely known for its casino as well as the Monaco Grand Prix. Monte Carlo is one of Europe's leading tourist destinations as it simply has so much to offer. Some of the sights include the Cathédrale Paroisse, Eglise Sainte Dévôte, Jardin Exotique et Grottes de l'Observatoire, Monaco Top Cars Collection, Musée Océanographique and of course the Palace.
SeaDream calls to Monte Carlo for embarkation and on certain voyages as a port of call typically docking along the new pier. There are a few occasions where the yacht may anchor offering tender service to the pier downtown or at Fontvieille. Kindly check the Land Adventures tab to see all of the options including transfers and private arrangements.
Calvi located on the northwest coast of Corsica in the Haute-Corse department of France. Some have speculated that Christopher Columbus came from Calvi, which at the time was part of the Genoese Empire. SeaDream has an option to dock in the heart of town or anchor off the marina to offer marina possibilities. As most of the main sites are just a stone throw away, we have arranged a guided walking land adventure. Other options include the popular Villages of Corsica adventure, Golf, mountain biking or relaxing on the beach.
One word – Incredible! Cinque Terre, Portovenere and the three Island of Palmaria, Tino and Tinetto have been added to the UNESCO World Heritage List in 1997. They have been selected for being distinguished examples of the ways in which man has been able to modify and transform the environment without altering the beauty of the original natural landscape. Most of our valued guests will participate in the ever popular "Cinque Terre: Don't go Home Without It" Land Adventure. Others may enjoy the guided village walk or go hiking on several trails leading down the coast. Most guests will make a purchase of the mazing local pesto and we are fairly certain our Executive Chef will do the same. Be prepared for an incredible dinner alfresco this evening!
One of the largest and busiest ports in the Mediterranean, Civitavecchia is the gateway to Rome. Rome's incredible history spans over 2,500 years. Rome has been awarded on of the most-visited cities in the world. Its historic center is listed by UNESCO as a World Heritage Site. Monuments and museums such as the Vatican Museums and the Colosseum are amongst the world's 50 most visited destinations. With its unique size SeaDream yachts are generally the first vessel in line at Civitavecchia. On some days, nine ships of various sizes can be seen in this busy port of call. It has come to our attention that some local taxi drivers at the airport may tell you that you can embark earlier than the scheduled 2:00 PM. Please note that this information is false and we kindly ask you to make your arrangements accordingly in order to avoid arriving at the pier prior to 2:00 PM. We thank you for your understanding. Some limo and transfer companies found on the web may not have the proper permits to enter the inner port area. Please double check with your service provider to see if they can actually take you all the way to the yacht.
| Date | Ports of Call | Arrive | Depart |
| --- | --- | --- | --- |
| Sep 27, 2014 | Monte Carlo, Monaco | 2 PM – 4 PM (Embarkation) | Evening |
| Sep 28, 2014 | St. Tropez, France | Morning | Late evening |
| Sep 29, 2014 | Calvi, Corsica, France | Morning | Late evening |
| Sep 30, 2014 | Portovenere (Cinque Terre), Italy | Morning | Late evening |
| Oct 01, 2014 | Portoferraio, Elba, Italy | Morning | Late evening |
| Oct 02, 2014 | Bastia, Corsica, France | Morning | Late evening |
| Oct 03, 2014 | Porto Santo Stefano, Italy | Morning | Evening |
| Oct 04, 2014 | Civitavecchia (Rome), Italy | Morning | 8 AM – 10 AM (Disembarkation) |
LESS

The Route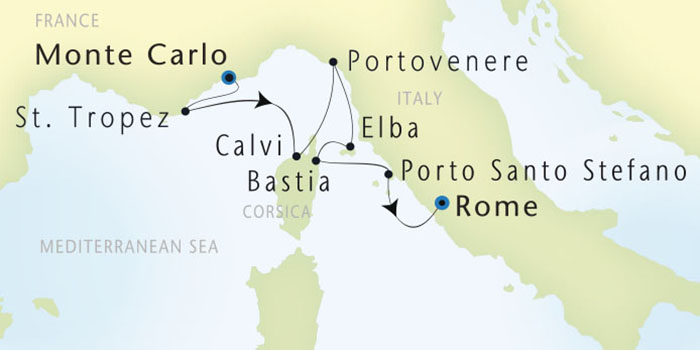 Start with our
vacation planner
so we can match you with our most suitable travel advisor. We do it all for you, air, car, accommodations, tours, you name, it in a seamless luxury vacation experience you will treasure for a lifetime.