The Experience
The Spice Route I. This voyage has it all: tropical beaches, colonial outposts and a wealth of UNESCO World Heritage Sites. After high-octane Mumbai, Goa beckons with gorgeous beaches, spice plantations, and colonial architecture. With two full days in Kochi, experience the surreal beauty of the Kerala backwaters, Mattancherry Palace, and a mesmerizing Kathakali performance.
Tropical Kuda Bandos offers a day of jungle touring, bird-watching or snorkeling among colorful coral. Sri Lanka is a treasure trove of natural and man-made wonders, and with an overnight in Colombo and another in Galle you've got options to explore seven UNESCO World Heritage Sites including sacred cities, Buddhist monasteries, cave temples and national parks. In Chennai you'll learn about Tamil culture and have time to visit the magnificent rock-cut temples and monoliths of Mahabalipuram.
Date
Port/City
Activity
Arrival
Depart
WED 26-NOV
Mumbai (Bombay), India
Embark
THU 27-NOV
Mumbai (Bombay), India
Docked
6:00 pm
FRI 28-NOV
Mormugao, Goa, India
Docked
1:00 pm
10:00 pm
SAT 29-NOV
AT SEA
Cruising
SUN 30-NOV
Kochi, India
Docked
8:00 am
MON 1-DEC
Kochi, India
Docked
10:30 pm
TUE 2-DEC
AT SEA
Cruising
WED 3-DEC
Kuda Bandos Island, Maldives
Tendered
7:00 am
8:00 pm
THU 4-DEC
AT SEA
Cruising
FRI 5-DEC
Colombo, Sri Lanka
Docked
6:00 am
11:00 pm
SAT 6-DEC
Galle, Sri Lanka
Tendered
7:00 am
9:00 pm
SUN 7-DEC
AT SEA
Cruising
MON 8-DEC
Chennai (Madras), India
Docked
1:00 pm
TUE 9-DEC
Chennai (Madras), India
Debark
LESS

The Route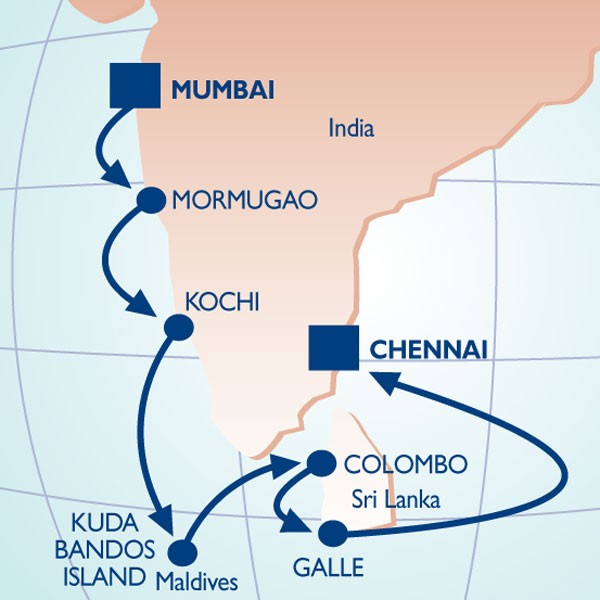 Start with our
vacation planner
so we can match you with our most suitable travel advisor. We do it all for you, air, car, accommodations, tours, you name, it in a seamless luxury vacation experience you will treasure for a lifetime.