The Experience
Sail to The Land Down Under for a Christmas and New Year's holiday you'll never forget! Your voyage begins in Benoa, where you can explore Bali's golden-age dynasty of Semarapura, traditional Tenganan village, vibrant landscapes and colorful temples.
Enjoy Christmas Eve on Lombok, famous for its beautiful beaches, and Christmas Day scouting for dragons on Komodo Island. Then set sail to the Great Barrier Reef, the world's largest coral reef with thousands of species of flora, fauna and fish and more than 400 types of coral. Explore the reef by boat, pontoon, snorkeling and other Land Discoveries expeditions.
Discover more amazing experiences onshore, including World Heritage tropical rainforests, the Australian Outback, unspoiled beaches, the lush Tablelands and savannah plains. Along the way, learn about the indigenous Aborigine and other natives of this region, and hear their legendary stories of snakes, fire sticks and spirits. Don't miss this amazing adventure!
Date
Port/City
Activity
Arrival
Depart
TUE 22-DEC
Benoa, Bali, Indonesia
Embark
WED 23-DEC
Benoa, Bali, Indonesia
Docked
8:00 pm
THU 24-DEC
Lombok, Indonesia
Tendered
7:30 am
4:00 pm
FRI 25-DEC
Komodo, Indonesia
Tendered
10:30 am
7:00 pm
SAT 26-DEC
AT SEA
Cruising
SUN 27-DEC
AT SEA
Cruising
MON 28-DEC
Darwin, Australia
Docked
6:00 am
10:00 pm
TUE 29-DEC
AT SEA
Cruising
WED 30-DEC
AT SEA
Cruising
THU 31-DEC
Thursday Island, Australia
Tendered
7:00 am
6:00 pm
FRI 1-JAN
AT SEA
Cruising
SAT 2-JAN
Cooktown, Australia
Tendered
8:00 am
7:00 pm
SUN 3-JAN
Port Douglas, Australia
Tendered
8:00 am
11:59 pm
MON 4-JAN
Cairns, Australia
Docked
7:00 am
TUE 5-JAN
Cairns, Australia
Debark
LESS

The Route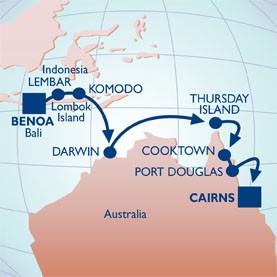 Start with our
vacation planner
so we can match you with our most suitable travel advisor. We do it all for you, air, car, accommodations, tours, you name, it in a seamless luxury vacation experience you will treasure for a lifetime.