The Experience
Vatican to the Bosphorus. This far-reaching voyage sails to great sites of the ancient Mediterranean in Italy, Greece and Turkey-a real adventure for cultural travelers. From Rome, your first stop is Sorrento, a place to savor limoncello and dramatic Amalfi Coast views or set out for ancient Pompeii. In Siracusa, visit the old town of Ortygia or Noto, a Roman-era city rebuilt after an earthquake in 1693 and valued for its ornate Baroque architecture.
Greek treasures await: the Samaria Gorge and Chania's ancient Venetian Harbor in Crete, Oia Village on the caldera's rim in Santorini, and the Monastery of St. John and village of Chora on Patmos. In Turkey don't miss the magnificent ruins of Pergamon and Ephesus, and explore Istanbul's great mosques, palaces and fabulous cuisine with an overnight stay.
Date
Port/City
Activity
Arrival
Depart
MON 2-JUN
Civitavecchia (Rome), Italy
Embark
6:00 pm
TUE 3-JUN
Sorrento, Italy
Tendered
7:30 am
7:00 pm
WED 4-JUN
Siracusa, Sicily, Italy
Docked
1:00 pm
10:00 pm
THU 5-JUN
AT SEA
Cruising
FRI 6-JUN
Chania, Crete, Greece
Tendered
7:00 am
10:00 pm
SAT 7-JUN
Santorini, Greece
Tendered
7:00 am
10:00 pm
SUN 8-JUN
Patmos, Greece
Tendered
8:00 am
10:00 pm
MON 9-JUN
Kusadasi (Ephesus), Turkey
Docked
7:30 am
10:30 pm
TUE 10-JUN
Dikili (Pergamum), Turkey
Docked
8:30 am
2:30 pm
WED 11-JUN
Istanbul, Turkey
Docked
9:00 am
THU 12-JUN
Istanbul, Turkey
Debark
LESS

The Route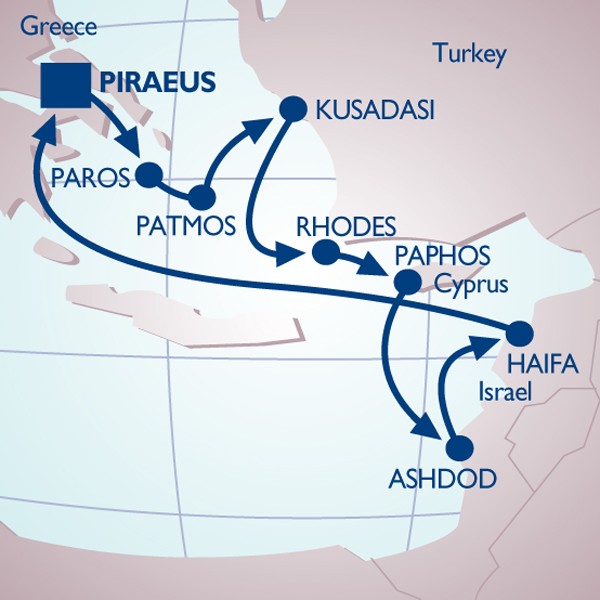 Start with our
vacation planner
so we can match you with our most suitable travel advisor. We do it all for you, air, car, accommodations, tours, you name, it in a seamless luxury vacation experience you will treasure for a lifetime.