The Experience
Perhaps no other place in France holds more associations for English-speaking visitors than Normandy. The historic Allied landings on D-Day – 6 June, 1944 – live on in the memories of British and Americans alike. Nor has Le Havre forgotten the dark days of the war. The port was nearly completely destroyed during the Normandy campaign. Today, Le Havre is France's second largest port and the gateway to Paris, "City of Light," the Norman countryside, and the historic landing beaches.
Travelers usually head for the historic landing sites or to Paris. Yet Le Havre was designated a World Heritage Site in 2005. The Musee des Beaux Arts Andre Malraux boasts one of the finest collections of Impressionist painting in the world.
Day
Port / Date
Arrive
Depart
Day 1

London (Southampton), England
Saturday, October 25

5:00 PM
Day 2

Paris/Normandy (Le Havre), France
Sunday, October 26

7:00 AM
8:00 PM
Day 3

At Sea
Monday, October 27

Day 4

Vigo, Spain (for Santiago de Compostela)
Tuesday, October 28

10:00 AM
5:00 PM
Day 5

Lisbon, Portugal
Wednesday, October 29

8:00 AM
5:00 PM
Day 6

At Sea
Thursday, October 30

Day 7

Azores Islands (Ponta Delgada), Portugal
Friday, October 31

10:00 AM
6:00 PM
Day 8

At Sea
Saturday, November 1

Day 9

At Sea
Sunday, November 2

Day 10

At Sea
Monday, November 3

Day 11

At Sea
Tuesday, November 4

Day 12

Bermuda (West End)
Wednesday, November 5

8:00 AM
4:00 PM
Day 13

At Sea
Thursday, November 6

Day 14

At Sea
Friday, November 7

Day 15

Ft. Lauderdale, Florida
Saturday, November 8

7:00 AM
4:00 PM
Day 16

At Sea
Sunday, November 9

Day 17

At Sea
Monday, November 10

Day 18

Houston, Texas
Tuesday, November 11

7:00 AM
LESS

The Route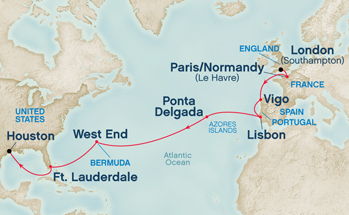 Start with our
vacation planner
so we can match you with our most suitable travel advisor. We do it all for you, air, car, accommodations, tours, you name, it in a seamless luxury vacation experience you will treasure for a lifetime.