The Experience
Embrace the opportunity to explore two of Europe's most vibrant cities. In the Gothic Quarter of Barcelona, buildings date from medieval times, while the modern architect Gaudí has left a contemporary impression across the city's architectural landscape. In Madrid, visit the Royal Palace and the Puerta del Sol, the heart of the city. Take in the vast collection of the Prado Museum, one of the most important art galleries in the world. Meander the famous streets and plazas of Madrid as you build up an appetite for Spanish tapas and an authentic flamenco performance.
Day
Port
Arrive
Depart
Day 01
Barcelona, Spain
6:00 p.m.
Day 02
Palma de Mallorca, Spain
8:00 a.m.
11:00 p.m.
Day 03
Ibiza, Spain
8:00 a.m.
11:59 p.m.
Day 04
Valencia, Spain
9:00 a.m.
6:00 p.m.
Day 05
Cartagena, Spain
8:00 a.m.
6:00 p.m.
Day 06
Malaga, Spain
8:00 a.m.
6:00 p.m.
Day 07
Gibraltar, United Kingdom
8:00 a.m.
11:59 p.m.
Day 08
Tangier, Morocco
8:00 a.m.
8:00 p.m.
Day 09
Seville (Cadiz), Spain
8:00 a.m.
6:00 p.m.
Day 10
Lisbon, Portugal
12:00 p.m.
LESS

The Route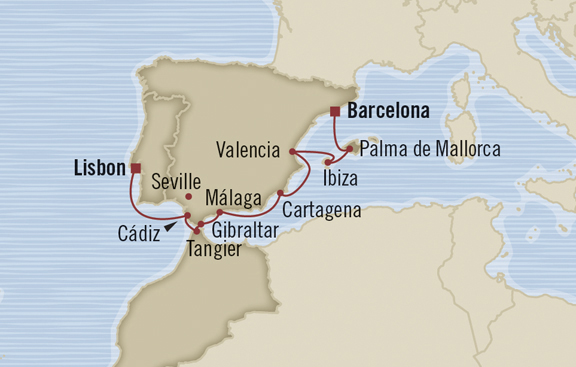 Start with our
vacation planner
so we can match you with our most suitable travel advisor. We do it all for you, air, car, accommodations, tours, you name, it in a seamless luxury vacation experience you will treasure for a lifetime.