The Experience
Chart a course to exotic and untouristed ports on this fascinating, one-of-a-kind itinerary. Embark the ship in Cairns, Australia, gateway to the Great Barrier Reef, and set sail for Papua New Guinea, set on the second-largest island in the world. Here, you'll visit Samarai Island, a National Historical Heritage Island; Rabaul, whose fantastical landscape frozen in lava is reminiscent of Pompeii. and the island of Bougainville, with its World War II sites, traditional handicrafts, and natural wonders.
Cruise on to Guadalcanal, whose very name is synonymous with a turning point of World War II, and Vanuatu, an island chain that inspired James A. Michener's Pulitzer Prize-winning Tales of the South Pacific. Then, experience the ultimate in relaxation at Malolo, a serene island known as a hidden gem of Fiji, before disembarking in Lautoka, Fiji's Sugar City,, on a memorable voyage punctuated by leisurely days at sea.
Day 1 Embark the m/s Paul Gauguin in Cairns, Australia
The gateway to Far North Queensland, tropical Cairns is best known for the amazing natural wonders that surround it, from the Great Barrier Reef to the Outback. Embark the m/s Paul Gauguin here and settle into your stateroom as the ship sets sail late this afternoon.
Day 2 At Sea
Spend the day enjoying The Gauguin's Polynesian ambiance: casual, leisurely, and elegant. Perhaps you'll work out in the fitness center and later enjoy specialties inspired by one of the top chefs of Paris over dinner in La Veranda.
Day 3 Samarai Island, Papua New Guinea
Papua New Guinea is the eastern half of the island of New Guinea, the second-largest island in the world (after Greenland). Just 54 acres in size, Samarai Island was once an important trading center, due to its location off the southeast coast of Papua New Guinea, on the China Strait between Australia and East Asia. Declared a National Historical Heritage Island by the government in 2006, it offers a pleasant walkway around the village and excellent diving. Or enjoy the beautiful beach.
Day 4 At Sea
Today is yours to relax amid the luxury of The Gauguin. Pamper yourself at our onboard spa, take a dip in the pool, or choose a movie from our onboard DVD library.
Day 5 Rabaul, Papua New Guinea
Controlled by first the Germans, then the British, and finally the Japanese in the first half of the 20th century, Rabaul was buried in ash from volcanic eruptions from Mt. Tavurvur and Mt. Vulcan in 1994. Today, its ambiance is eerily reminiscent of Pompeii. Marvel at the surreal, almost deserted landscape, and enjoy SCUBA diving and snorkeling in the beautiful harbor.
Day 6 Kieta, Bougainville, Papua New Guinea
Bougainville, off the coast of Papua New Guinea, is rugged and relatively unspoiled, with lush jungle, fabulous beaches, and one of the world's largest caves. There are many World War II sites and relics scattered throughout the island that you can explore. Or enjoy excellent snorkeling, swimming, and diving in the clear waters ,¦ browse the shops for traditional wood carvings ,¦ and admire the diversity of bird life that is second only to Guadalcanal in this region of the South Seas.
Day 7 Guadalcanal, Solomon Islands
The third-largest archipelago in the South Pacific, the Solomon Islands were divided between Great Britain and Germany in 1893. Among the British-controlled islands was the then-obscure island of Guadalcanal, the largest of the Solomons. In 1942, the Japanese effort to build an airfield on the island prompted six months of combat, in which the Allies were ultimately victorious. It was a turning point in the Pacific theater during World War II. The island is still brimming with World War II relics, monuments, and memorials. Perhaps you'll explore its tropical interior, with its excellent birdwatching. Or discover why the island is revered for its superior snorkeling and diving, with clear waters, shipwrecks, and an abundance of marine life.
Day 8 At Sea
Spend another day enjoying shipboard life: take a dip in the pool, watch the South Pacific pass by, play some table tennis, or read up on our next port at the Reading Gallery. And enjoy live entertainment in Le Grand Salon after a sumptuous gourmet dinner at L' Etoile.
Day 9 Espiritu Santo, Vanuatu
In the South Pacific, about three-quarters of the way from Hawaii to Australia, lies the island nation of Vanuatu. Spanish for the holy spirit,, Espiritu Santo is the largest island in the Vanuatu archipelago and boasts miraculous scenery, from its palm-lined, white-sand beaches and spring-fed swimming holes to lush rainforests and lofty mountains. It was his experiences while stationed here during World War II that inspired author James A. Michener to pen his classic Tales of the South Pacific. Coral reefs and shipwrecks including the SS President Coolidge, renowned as one of the most accessible shipwrecks in the world make it a popular destination for divers. You can also enjoy exceptional swimming and snorkeling. Or relax on the beach.
Day 10 Porta Vila, Vanuatu
Tradition and culture remain strong on the islands of Vanuatu, where 80% of the population lives in thatched-hut villages surrounded by thick jungle. From your port call on the capital city, Port Vila, on the island of Efate, you can discover a rich artistic heritage of storytelling, song, dance, and art, including tattoos, masks, and carvings. Those interested in the natural world can admire large open stretches of water, dense jungle, and a mountainous terrain, as well as a wide variety of sea life.
Day 11 At Sea
Today is at leisure as your captain charts a course toward Fiji. You might attend an informative lecture by an onboard guest expert, or let Les Gauguines, our troupe of hostess/entertainers, school you in traditional Polynesian arts such as pareo tying.
Day 12 Malolo Island, Fiji / Lautoka, Viti Levu, Fiji
Rising just a few feet above sea level, Malolo is a remote and rustic getaway owned by a Fijian family. Take advantage of the opportunity to truly get away from it all as you admire the golden-sand beaches, swaying palms, and azure skies ,¦ marvel at the phenomenal snorkeling, with an abundance of tropical fish inhabiting local reefs ,¦ take in sweeping sea views from the comfort of a double hammock ,¦ and enjoy true Fijian hospitality, offered by villagers whose ancestry here dates back thousands of years. Late this afternoon, The Gauguin sails to Lautoka, where you will overnight on board.
Day 13 Disembark in Lautoka
In the morning, you,™ll have brunch aboard ship in Lautoka before disembarking for your return home.
LESS

The Route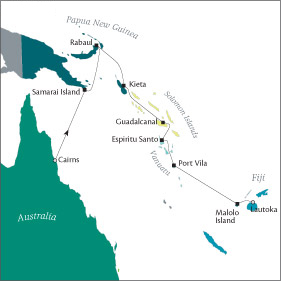 Start with our
vacation planner
so we can match you with our most suitable travel advisor. We do it all for you, air, car, accommodations, tours, you name, it in a seamless luxury vacation experience you will treasure for a lifetime.