The Experience
Founded in 1608 as a fur-trading base by Samuel de Champlain, Québec has a long and exciting history. In 1759, the English defeated the French on the Plains of Abraham and helped determine the outcome of the French and Indian Wars, which under the Treaty of 1763, established British supremacy in Canada. The joie de vivre and panache, however are totally French, as are the cuisine, language and heritage. The first buildings were close to the St. Lawrence waterfront and are known as Lower Town. Most hotels are on a hill that rises steeply from the river in what today is called Upper Town. Québec is still North America's only walled city north of Mexico. Handsome old structures throughout the city are fine examples of classical French architecture. The towers and spire of the imposing Château Frontenac Hotel, built by the Canadian and Pacific Railway in 1892, lend the city an aura of the Belle Epoque.
Day
Port
Arrive
Depart
0
Montreal, Quebec, CA
04:00 PM
1
Quebec City, Quebec, CA ON TC
08:00 AM
2
Quebec City, Quebec, CA TC
06:00 PM
3
Saguenay, Canada
08:00 AM
05:00 PM
3
Scenic cruising Saguenay Fjord CO
4
Baie Comeau, Quebec, CA
07:00 AM
04:00 PM
5
Gaspe, Quebec, CA TR
09:00 AM
05:00 PM
6
Charlottetown, Prince Edward CA
Noon
11:00 PM
7
At Sea
8
Halifax, Nova Scotia, CA
07:00 AM
01:00 PM
9
Bar Harbor, Maine, US  TR
08:00 AM
05:00 PM
10
Boston, Massachusetts, US
07:00 AM
LESS

The Route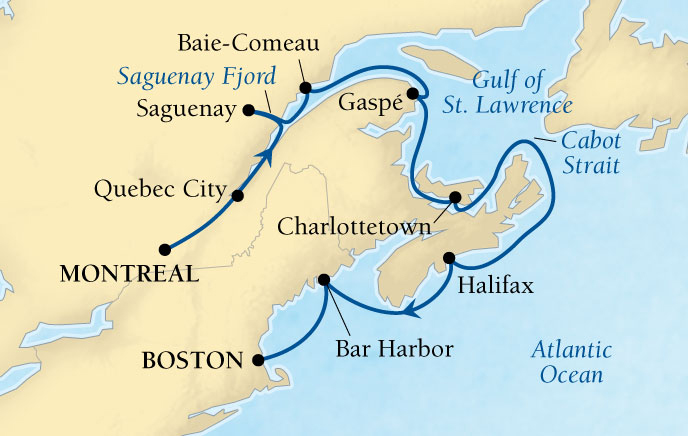 Start with our
vacation planner
so we can match you with our most suitable travel advisor. We do it all for you, air, car, accommodations, tours, you name, it in a seamless luxury vacation experience you will treasure for a lifetime.