The Experience
Visible for miles from sea, the White Cliffs of Dover are an instantly recognizable symbol of England. Modern highways make Dover the doorstep to London – Britain's ever-fascinating capital. Visitors to this great city have a wealth of pleasures to choose from. Explore the notorious Tower of London and view the Crown Jewels. Visit Windsor Castle or see Westminster Abbey. The choices are fascinating and endless. Dover is also your gateway to Kent's green countryside, dotted with old medieval towns and castles.
Dover has played a major role in world history since the days of the Norman invasion. Today 13th century Dover Castle dominates a harbour filled with cross-channel ferries and merchant and passenger shipping.
Day
Port / Date
Arrive
Depart
Day 1

London (Dover), England
Wednesday, August 27

5:00 PM
Day 2

Paris/Normandy (Le Havre), France
Thursday, August 28

7:00 AM
7:00 PM
Day 3

At Sea
Friday, August 29

Day 4

At Sea
Saturday, August 30

Day 5

Algarve Coast (Portimao), Portugal
Sunday, August 31

7:00 AM
6:00 PM
Day 6

Gibraltar, Great Britain
Monday, September 1

8:00 AM
5:00 PM
Day 7

At Sea
Tuesday, September 2

Day 8

Barcelona, Spain
Wednesday, September 3

7:00 AM
4:00 PM
Day 9

St Tropez, France
Thursday, September 4

8:00 AM
6:00 PM
Day 10

Portofino, Italy
Friday, September 5

7:00 AM
5:00 PM
Day 11

Rome (Civitavecchia), Italy
Saturday, September 6

5:00 AM
6:00 PM
Day 12

At Sea
Sunday, September 7

Day 13

Itea, Greece (for Delphi)
Monday, September 8

10:00 AM
8:00 PM
Day 14

Cephalonia (Argostoli), Greece
Tuesday, September 9

7:00 AM
2:00 PM
Day 15

Santorini, Greece
Wednesday, September 10

9:00 AM
6:00 PM
Day 16

Kusadasi, Turkey (for Ephesus)
Thursday, September 11

8:00 AM
5:00 PM
Day 17

Crete (Aghios Nikolaos), Greece
Friday, September 12

8:00 AM
4:00 PM
Day 18

Athens (Piraeus), Greece
Saturday, September 13

6:00 AM
LESS

The Route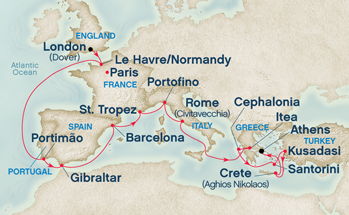 Start with our
vacation planner
so we can match you with our most suitable travel advisor. We do it all for you, air, car, accommodations, tours, you name, it in a seamless luxury vacation experience you will treasure for a lifetime.