The Experience
The great period of "the Discoveries" accounted for phenomenal wealth brought back from India, Africa and Brazil by the great Portuguese navigators. Gold, jewels, ivory, porcelain and spices helped finance grand new buildings and impressive monuments in Lisbon, the country's capital city.
As you sail up the Tagus River, be on deck to admire Lisbon's panorama and see some of the great monuments lining the river. Lisbon is one of Europe's smallest capital cities but considered by many visitors to be one of the most likeable. Spread over a string of seven hills, the city offers a variety of faces, including a refreshing no-frills simplicity reflected in the people as they go unhurriedly through their day enjoying a hearty and delicious cuisine accompanied by the country's excellent wines.
Day
Port
Arrive
Depart
0
Barcelona, Spain
04:00 PM
1
At Sea
2
Malaga, Spain
08:00 AM
06:00 PM
3
Cadiz (Seville), Spain
08:00 AM
06:00 PM
4
Portimao, Portugal
07:00 AM
04:00 PM
5
Lisbon, Portugal
08:00 AM
05:00 PM
6
Leixoes (Porto), Portugal
11:00 AM
08:00 PM
7
Villagarcia, Spain
08:00 AM
06:00 PM
8
A Coruna, Spain
08:00 AM
06:00 PM
9
At Sea
10
St Malo, France ON TR
03:00 PM
11
St Malo, France TR
05:00 PM
12
Cherbourg, France
08:00 AM
06:00 PM
13
Le Havre (Paris), France
07:00 AM
07:00 PM
14
At Sea
15
London (HMS Belfast), England
06:00 AM
LESS

The Route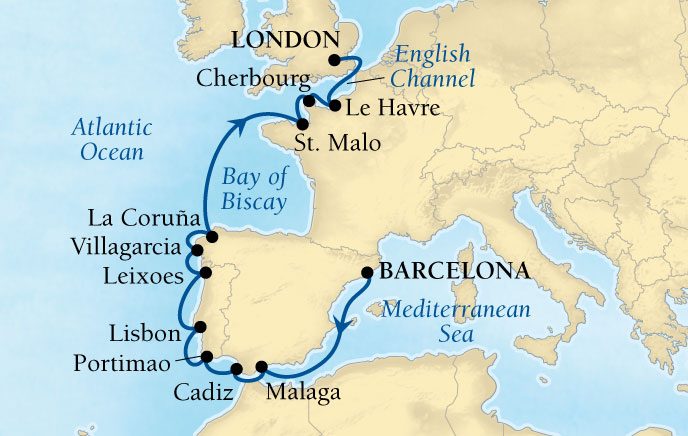 Start with our
vacation planner
so we can match you with our most suitable travel advisor. We do it all for you, air, car, accommodations, tours, you name, it in a seamless luxury vacation experience you will treasure for a lifetime.