The Experience
Copenhagen was founded during the 12th century. The city owes much of its charm to the buildings erected by Denmark's monarchs, and boasts a treasure trove of late-Renaissance and Rococo architecture.
Copenhagen deserves its accolade as the Venice of the North. Founded on a series of islands and islets, the city today is laced with graceful canals and boasts some of the most delightful architecture in Northern Europe. See the fabled statue of Hans Christian Andersen's Little Mermaid, a symbol of the city. Stroll along the old harbor of Nyhavn, lined with cafés, restaurants and 500-year-old gabled houses. Browse the superb shops on the world-famous Stroget or view the Rococo palaces lining Amalienborg Square. Best of all, savor the taste of local delicacies while wandering the paths of Tivoli Gardens, one of Europe's most celebrated pleasure gardens.
Day
Port / Date
Arrive
Depart
Day 1

Copenhagen, Denmark
Wednesday, September 10

6:00 PM
Day 2

Kristiansand, Norway
Thursday, September 11

8:00 AM
5:00 PM
Day 3

At Sea
Friday, September 12

Day 4

At Sea
Saturday, September 13

Day 5

Reykjavik, Iceland
Sunday, September 14

8:00 AM
6:00 PM
Day 6

At Sea
Monday, September 15

Day 7

At Sea
Tuesday, September 16

Day 8

Glasgow (Greenock), Scotland
Wednesday, September 17

8:00 AM
6:00 PM
Day 9

Belfast, Northern Ireland
Thursday, September 18

8:00 AM
6:00 PM
Day 10

Cork, Ireland (Cobh – For Blarney Castle)
Friday, September 19

9:00 AM
6:00 PM
Day 11

At Sea
Saturday, September 20

Day 12

At Sea
Sunday, September 21

Day 13

At Sea
Monday, September 22

Day 14

St. Johns, Newfoundland
Tuesday, September 23

12:00 PM
8:00 PM
Day 15

At Sea
Wednesday, September 24

Day 16

Halifax, Nova Scotia
Thursday, September 25

8:00 AM
6:00 PM
Day 17

At Sea
Friday, September 26

Day 18

New York City (Manhattan or Brooklyn), New York
Saturday, September 27

7:15 AM
LESS

The Route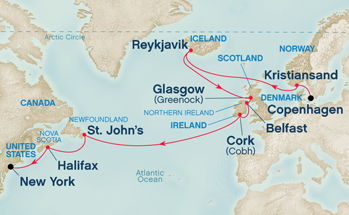 Start with our
vacation planner
so we can match you with our most suitable travel advisor. We do it all for you, air, car, accommodations, tours, you name, it in a seamless luxury vacation experience you will treasure for a lifetime.