The Experience
Admire the city's stunning modern architecture, visit its lovely parks and bustling open-air market. Take a harbor cruise past forests, beaches, villas and a ruined Suomenlinna fortress that spans five islands. Or visit historic, colorful Porvoo, Finland's second oldest town.
Day
Port
Arrive
Depart
01
Stockholm, Sweden
02
Stockholm, Sweden
3:00 p.m.
03
Helsinki, Finland
9:00 a.m.
6:00 p.m.
04
St. Petersburg, Russia
8:00 a.m.
05
St. Petersburg, Russia
06
St. Petersburg, Russia
6:00 p.m.
07
Tallinn, Estonia
8:00 a.m.
4:00 p.m.
08
Riga, Latvia
9:00 a.m.
4:00 p.m.
09
Klaipeda, Lithuania
8:00 a.m.
4:00 p.m.
10
Copenhagen, Denmark
12:00 p.m.
9:00 p.m.
11
Berlin (Warnemunde), Germany
7:00 a.m.
9:00 p.m.
12
Kiel Canal Transit
13
Amsterdam, Netherlands
9:00 a.m.
7:00 p.m.
14
Bruges (Zeebrugge), Belgium
8:00 a.m.
5:00 p.m.
15
London (Southampton), United Kingdom
6:00 a.m.
LESS

The Route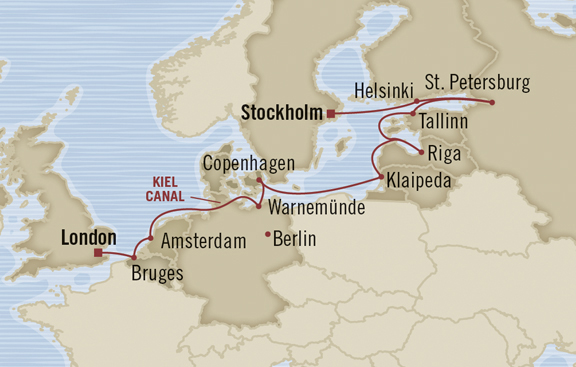 Start with our
vacation planner
so we can match you with our most suitable travel advisor. We do it all for you, air, car, accommodations, tours, you name, it in a seamless luxury vacation experience you will treasure for a lifetime.