The Experience
Explore breathtaking St. Petersburg and cruise its canals. Visit the Peter and Paul Fortress, the fabulous onion-domed cathedrals and the palaces – from the immense Winter Palace, now the Hermitage Museum, to the fabled Catherine's Palace and Peterhof outside the city. Enjoy an evening of ballet or traditional Russian song and dance or take a day trip to Moscow.
Day
Port
Arrive
Depart
01
London (Southampton), United Kingdom
5:00 p.m.
02
Bruges (Zeebrugge), Belgium
8:00 a.m.
6:00 p.m.
03
Amsterdam, Netherlands
8:00 a.m.
6:00 p.m.
04
Kiel Canal Transit
05
Berlin (Warnemunde), Germany
7:00 a.m.
9:00 p.m.
06
Cruising the Baltic Sea
07
Helsinki, Finland
9:00 a.m.
6:00 p.m.
08
St. Petersburg, Russia
8:00 a.m.
09
St. Petersburg, Russia
6:00 p.m.
10
Tallinn, Estonia
8:00 a.m.
4:00 p.m.
11
Klaipeda, Lithuania
1:00 p.m.
9:00 p.m.
12
Gdansk (Gdynia), Poland
7:00 a.m.
2:00 p.m.
13
Copenhagen, Denmark
7:00 a.m.
LESS

The Route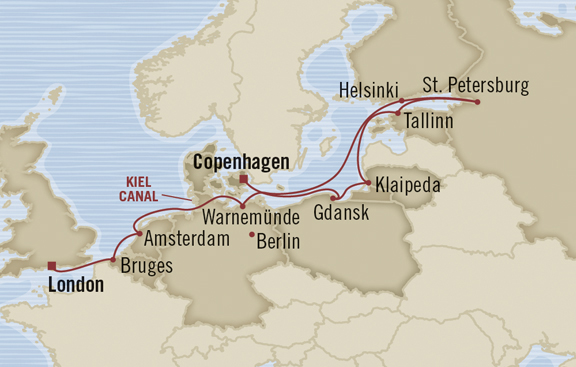 Start with our
vacation planner
so we can match you with our most suitable travel advisor. We do it all for you, air, car, accommodations, tours, you name, it in a seamless luxury vacation experience you will treasure for a lifetime.