The Experience
Once home to Sigmund Freud, Vienna has been called the "City of Dreams" and is also known as the "City of Music" for its rich musical heritage. During two days exploring this immaculate capital, one of the most liveable cities in the world, you will experience the history and culture of Vienna with one of the highlights being an inside visit of the magnificent Schonbrunn Palace. Once the focus of court life in Austria, it is now a cultural treasure and one of the country's most popular attractions.
Day
Port
Arrive
Depart
Day 01
Venice, Italy
Day 02
Venice, Italy
6:00 p.m.
Day 03
Koper, Slovenia
8:00 a.m.
5:00 p.m.
Day 04
Split, Croatia
9:00 a.m.
6:00 p.m.
Day 05
Kotor, Montenegro
8:00 a.m.
6:00 p.m.
Day 06
Tirana (Durres), Albania
8:00 a.m.
5:00 p.m.
Day 07
Corfu, Greece
8:00 a.m.
5:00 p.m.
Day 08
Taormina (Sicily), Italy
9:00 a.m.
6:00 p.m.
Day 09
Sorrento/Capri, Italy
7:00 a.m.
2:00 p.m.
Day 10
Florence/Pisa/Tuscany (Livorno), Italy
8:00 a.m.
8:00 p.m.
Day 11
Rome (Civitavecchia), Italy
6:00 a.m.
LESS

The Route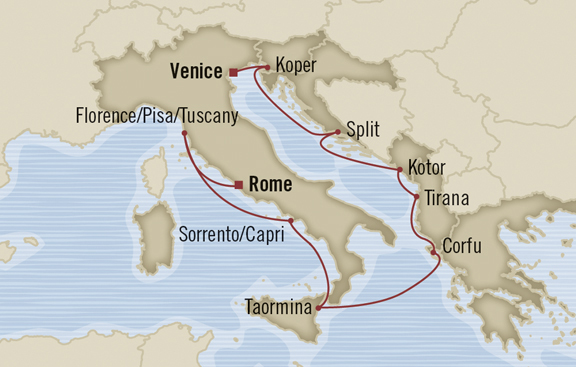 Start with our
vacation planner
so we can match you with our most suitable travel advisor. We do it all for you, air, car, accommodations, tours, you name, it in a seamless luxury vacation experience you will treasure for a lifetime.