The Experience
The Moana Panama Canal, the Caribbean & Latin America
The Moana specializes in warm-weather destinations, with unique voyages to the Caribbean, Latin America, and the Panama Canal. Take your pick of the following itineraries:
A transit of the Panama Canal ranks high on the wish list, of most cruise enthusiasts. But this travel rite of passage is only one of the highlights of this unique itinerary. Embark the m/v Tere Moana in Dutch-flavored St. Maarten, then sail to St. Barts, a shopper's paradise. Discover why Antigua is so popular with sun-seekers before continuing on to magnificent Les Saintes.
Next, visit Holland in the Tropics, Curasao and sophisticated Aruba. A stop at graceful Cartagena, Colombia, sets the stage for your transit of the path between the seas., In Panama, you'll also marvel at Isla de Coiba, set in an archipelago that is also a national park, before setting off for one of the finest nature reserves in Costa Rica, Corcovado National Park. Disembark The Moana in Puerto Caldera, savoring the memories of a cruise that is everything you might have wished.
Day 1 Embark the m/v Tere Moana in Philipsburg, St. Maarten
The smallest island in the world to have been partitioned between two nations (France and the Netherlands), St. Martin/St. Maarten has prospered in peaceful coexistence for nearly 350 years. Embark the m/v Tere Moana on the Dutch side of the island, St. Maarten, then perhaps enjoy the fine beaches, multicultural restaurants, and duty-free shopping of Philipsburg, St. Maarten's lively pastel-hued captial. The ship sets sail late in the evening.
Day 2 St. Barts, F.W.I.
Chic shops are a hallmark of this Manhattan-sur-Mer, (Manhattan on the Sea,), known for its duty-free shopping. Others include the island,™s balmy climate and brilliant blue skies, iguanas, and night-blooming cactus. Distinctly French in language, culture, and cuisine, St. Barts remains thoroughly independent in spirit. Enjoy excellent snorkeling and diving from the island,™s fabulous cove-style beaches.
Day 3 English Harbour, Antigua
The sister island of the flat coral island of Barbuda, Antigua is the largest of the English-speaking Leeward Islands of the eastern Caribbean, popular among travelers for its spectacular beaches and nearly perfect climate.The Moana moors in English Harbour, where the gracefully restored historic district of Nelson's Dockyard National Park awaits.
Day 4 Les Saintes, F.W.I.
Located just six miles south of Guadeloupe, this small archipelago of eight gorgeous tropical islands is a world apart with its serene, relaxing ambiance. In Terre-de-Haut, one of just two inhabited islands in the chain, enjoy exceptional snorkeling in the magnificent bay, or take in the view from above at Fort Napoleon. Watch fishermen at work wearing unusual hats found nowhere else. Or explore the village, with its interesting shops and art galleries.
Day 5 At Sea
Today is at leisure to experience the amenities of The Moana. Enjoy a massage at the luxurious spa. Pick up a souvenir at La Boutique. Take a dip in the pool. Or simply relax in a deck chair and bask in the warm Caribbean sun.
Day 6 Willemstad, Curaçao
Independent since the dismantling of the Netherlands Antilles in 2010, Curaçao is sometimes called Holland in the Tropics, and was recently named a Top Destination, for 2012 by Frommer,™s. Much of the island,™s acclaim is due to its charming capital city, Willemstad, designated a UNESCO World Heritage Site for its distinctive urban planning dating to 1634 and mix of architectural styles. While here, admire the city,™s magnificent setting on a natural harbor and quality shopping in historic buildings. Perhaps you,™ll also visit Mikve Israel-Emanuel Synagogue, which boasts the longest-standing Jewish congregation in the New World, dating to 1651.
Day 7 Oranjestad, Aruba
Come discover why Aruba,™s slogan is Where Happiness Lives,! In its glittering, multicultural capital, Oranjestad, you,™ll find an ideal walking city brimming with shops, Dutch Colonial architecture, a waterfront market, and a 17th-century fort. Aruba is also world-renowned for its international cuisine, and restaurants are plentiful. Windsurfing is especially popular here, and shallow coral formations make this a great destination for diving and snorkeling. Or simply relax on a beach of soft, ivory-colored sands.
Day 8 At Sea
Enjoy another day to relax aboard The Moana. Perhaps you,™ll take in a presentation by our onboard naturalist, or watch a movie on the private DVD player in your stateroom. And linger with new friends over an elegant meal in one of the ship,™s two dining venues.
Day 9 Cartagena, Colombia
A blend of Spanish colonial influences and a tropical Caribbean lifestyle infuses the vibrant local culture of Colombia,™s fifth-largest city and most popular travel destination. Cartagena is also one of the loveliest cities in South America, with narrow streets, stately mansions, sprawling plazas, grand monasteries, open-air cafés, and a beautiful seaside setting. Perhaps you,™ll visit the Ciudad Amurallada the city,™s historic walled city and a UNESCO World Heritage Site.
Day 10 Cartagena, Colombia
Explore more of this gracious city during a second full day here. Stroll the Plaza Bolívar. Visit the Convento de la Popa (literally, Convent of the Stern,), founded in 1607 at the highest point in the city. Take a ride by horse-drawn carriage. Or head instead to one of Cartagena,™s many beaches. The best-known of these, Playa Blanca, is considered one of the finest beaches in the country.
Day 11 Panama Canal Transit
Today is at leisure. This evening, enjoy a "must-see" for most cruise enthusiasts: a transit of one of the world,™s great engineering marvels, the Panama Canal. The desire to build a canal through the isthmus of Panama dates to the days of Christopher Columbus, but it took the vision and resolve of one man to turn it into a reality: Teddy Roosevelt. Building it entailed crossing the Continental Divide and battling the effects of heat, malaria, and a forbidding jungle. On this evening's cruise, you,™ll enter the series of locks that raises ships about 85 feet above sea level, then lowers them back down again at the other side of the isthmus all by force of gravity, without the use of any pumps. In the middle of the canal, you,™ll sail through the 166-square-mile Gatun Lake once the largest manmade lake in the world.
Day 12 Panama Canal Transit/At Sea
Today, you will complete your 51-mile transit of this amazing waterway. As the locks gently lower your ship to the sea, you will have the rest of the day to relax in luxury aboard The Moana.
Day 13 Isla de Coiba, Panama
Today, you,™ll visit Isla de Coiba, the largest island in Central America and one of 38 islands that comprise Coiba National Park, named a UNESCO World Heritage Site for its natural riches. Because the island served as a Panamanian penal colony until 2004, access was highly restricted. As a result. some 80% of the island is carpeted with unspoiled virgin rainforest. Home to rare indigenous plant species, the island is also a haven for howler monkeys, scarlet macaws, crested eagles, four turtle species, and more. Or perhaps you,™ll visit one of the beautiful white-sand beaches at the north end of the island.
Day 14 Corcovado National Park (Marenco), Costa Rica
From Marenco, a private nature reserve on Costa Rica,™s southern Pacific coast, you,™ll have easy access to Corcovado National Park, called the most biologically intense place on earth, by National Geographic. Within its 103,000 acres lie 25 to 30 ecosystems, including virgin rainforest, cloud forest, mangrove swamps, and coastal habitats. An important sanctuary for rare and endangered species such as jaguars, pumas, ocelots, Baird,™s tapirs, and harpy,™s eagles, Corcovado also hosts and abundance of plant and wildlife, including at least 2,418 species of plants, 700 species of trees, 140 species of mammals, 117 species of amphibians and reptiles, and 40 species of freshwater fish. Perhaps you,™ll spot monkeys, sloths, anteaters, crocodiles, poison dart frogs, and so much more.
Day 15 Disembark in Puerto Caldera, Costa Rica
Your voyage comes to a close in Puerto Caldera, a small port town on Costa Rica,™s Pacific coast. On your own, you might want to explore nearby Puntarenas, a lively city set on a peninsula in the Gulf of Nicoya before catching your flight home.
LESS

The Route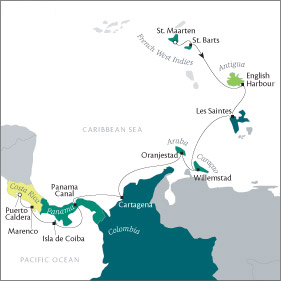 Start with our
vacation planner
so we can match you with our most suitable travel advisor. We do it all for you, air, car, accommodations, tours, you name, it in a seamless luxury vacation experience you will treasure for a lifetime.