The Experience
Join a one-of-a-kind itinerary designed as a reunion for past guests of the m/s Paul Gauguin and as a gala welcome for new guests! Framing your voyage are calls on the exquisite Society Islands, known for their breathtaking scenic beauty, turquoise lagoons, and friendly, easygoing lifestyle. You'll also cruise to the Tuamotus, whose extraordinary, wonder-filled waters attract divers from around the world. Paul Gauguin Cruises Chairman Richard Bailey and President Diane Moore will be on board to host a voyage that promises a festive getaway for new and returning guests alike!
Special events aboard ship include:
– Gala dinner with wine pairings
– Dancing under the stars
– Block party
– Mix & mingle cocktail party
– Culinary demonstration with the Executive Chef
– Town Hall, with Paul Gauguin Cruises executives and The Gauguin,™s senior officers
Day 1 Embark the m/s Paul Gauguin in Papeete, Tahiti
Begin your journey to paradise in the capital of Tahiti. Here, you'll embark your home for the next 10 nights: the luxurious yet casual m/s Paul Gauguin. The ship sets sail late this evening.
Day 2 Taha'a (Motu Mahana), Society Islands
Motu Mahana, an islet adjacent to Taha'a, is our very own South Seas paradise featuring white-sand beaches with swaying palms, crystal-clear waters, and gentle breezes. As an exclusive Paul Gauguin event, you will have a full day to relax on this idyllic, isolated island, enjoying swimming, snorkeling, and kayaking, or simply relaxing on the beach with a beverage from the floating bar. Les Gauguines will also be on hand to provide musical entertainment and demonstrate traditional Polynesian crafts. And savor a delicious barbecue lunch of fresh Polynesian specialties and popular Western fare.
Day 3 Huahine, Society Islands
Today, you'll call on Huahine, known as the Garden Island, for its lush rainforests and dramatic terrain. While here, you might explore the island's sacred sites and legendary landmarks that are among the best-preserved archaeological remains in French Polynesia. Enjoy snorkeling or SCUBA diving in the expansive lagoon. Or picnic on the beach.
Day 4 Rangiroa, Tuamotus
Known in the days before modern navigation as the Dangerous Archipelago, for their shallow passages, the Tuamotus islands are a diver's paradise. Divers from all over the world flock to Rangiroa to experience the extraordinary visibility of its lagoon and witness the multitude of tropical fish, manta rays, and dolphins. Spend a day snorkeling or SCUBA diving beneath the water's surface, and find yourself dazzled by an underwater technicolor fish frenzy in the reef passes surrounding the world's second-largest atoll. Ashore, discover the daily activities of the Paumotu people, perhaps at one of the interior lagoons' black-pearl farms. Or indulge in the island's second-most popular pursuit: doing nothing at all.
Day 5 Fakarava, Tuamotus
Your next port of call is Fakarava, whose diverse ecosystem has earned it the designation of a UNESCO-Classified Nature Reserve. There are two massive passes on the island where experienced divers can descend up to 130 feet into a world of cauliflower coral, gray sharks, and fish schooling by the thousands. Or stay on land and explore the island's charming villages, ancient temples, and 19th-century coral church.
Day 6 Maupiti, Society Islands
Your visit to Maupiti is your opportunity for an authentic experience of the Polynesia of old. Located just 25 miles from Bora Bora, Maupiti is considered an unspoiled paradise and one of the most beautiful islands in the South Seas. Explore ancient ruins dating to AD 850. Hike up Mt. Teuraffatui for sweeping panoramic views. Bask in the tranquil atmosphere of Tereia Beach, a beautiful, uncrowded, pink-and-white-sand beach also known as Lovers' Beach. Or enjoy wonderful snorkeling in a lagoon populated by leopard and manta rays, colorful tropical fish, and spectacular coral gardens.
Day 7 Bora Bora, Society Islands
Pulitzer Prize-winning author James A. Michener called Bora Bora the most beautiful island in the world., Dominated by towering Mount Otemanu and surrounded by a lagoon protected by low-lying coral reefs, this is indeed a spectacular destination. The ship arrives here in the morning and remains until late afternoon, giving you a full day in this quintessential Pacific paradise. Perhaps you'll take advantage of complimentary swimming and snorkeling on our private beach on a motu off the main island. Or explore the island by land or sea on a range of shore excursions.
Day 8 Taha'a (Motu Mahana), Society Islands
Enjoy an additional day on our private paradise. Perhaps you'll indulge in an optional overwater massage, or explore Taha'a on a shore excursion.
Days 9-10 Moorea, Society Islands
Moorea's lush scenery is like something out of a dream: spectacular mountain peaks cloaked in lush vegetation, an abundance of fresh fruits and flowers, and peaceful multi-hued lagoons framed by palm-fringed beaches. Spend the day reveling in the unsurpassed beauty of the island that is said to be the inspiration for Bali Hai. Perhaps you'll take an optional air-conditioned coach ride around the coast and up to Belvedere Lookout to admire the stunning views. Or explore beneath the waves on a fascinating underwater walk. In late afternoon of Day 10, The Gauguin cruises to Tahiti.
Day 11 Disembark in Papeete
In the morning, you'll have brunch aboard ship in Tahiti's bustling capital before disembarking for your return home.
LESS

The Route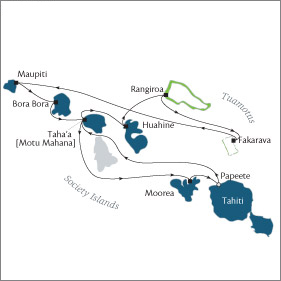 Start with our
vacation planner
so we can match you with our most suitable travel advisor. We do it all for you, air, car, accommodations, tours, you name, it in a seamless luxury vacation experience you will treasure for a lifetime.