The Experience
Discover Barcelona from every angle land, sea and air. You will transfer by coach to the Gothic Quarter, where you will begin your adventure with a ride across the Old Town on a smart Mercedes Benz electric bike (eBike). From the Old Town, a cable car will take you up Montjuac Hill, offering wonderful panoramic points from which to view the city. At the top, continue on your eBike to the castle for a view from outside. Look down on the Olympic Ring site of the Olympic Games 1992. After experiencing Barcelona from above, you'll head back to the lowest point the seashore. An eco-boat will be waiting for you at the waterfront for a ride to the Olympic Harbor area. Enjoy the city seafront and its main beaches. You can't leave Barcelona without seeing a few more highlights, so you'll ride through Ciutadella Park and past the Arc de Triomf to reach Sagrada Familia Cathedral. This still unfinished church was designed by the Catalin architect Antoni Gauda. You will have some time to stroll around and take some amazing photos before you ride your eBike back across the Passeig de Garcia to admire the fasade of the La Pedrera apartment building, also by Gauda­. From there, you'll return to the Gothic Quarter and take the coach back to the ship.
Day
Port
Arrive
Depart
0
Barcelona, Spain
 
04:00 PM
1
At Sea
 
 
2
Gibraltar, British Territory
08:00 AM
04:00 PM
3
Casablanca, Morocco
07:00 AM
09:00 PM
4
Safi, Morocco
08:00 AM
06:00 PM
5
At Sea
 
 
6
Arrecife, Canary Islands
08:00 AM
06:00 PM
7
Las Palmas, Spain
08:00 AM
06:00 PM
8
Santa Cruz (La Palma), Spain
08:00 AM
06:00 PM
9
At Sea
 
 
10
At Sea
 
 
11
Mindelo, Cape Verde
08:00 AM
06:00 PM
12
Praia, Ilha de Santiago, Cape Verde
08:00 AM
06:00 PM
13
At Sea
 
 
14
Dakar, Senegal VX VC
07:00 AM
06:00 PM
15
Banjul, Gambia VX
08:00 AM
05:00 PM
16
At Sea
 
 
17
At Sea
 
 
18
At Sea
 
 
19
At Sea
 
 
20
At Sea
 
 
21
Bom Bom Island, Sao Tome & Principe TR VX
08:00 AM
05:00 PM
22
At Sea
 
 
23
At Sea
 
 
24
Luanda, Angola
08:00 AM
05:00 PM
25
At Sea
 
 
26
At Sea
 
 
27
Walvis Bay, Namibia ON
08:00 AM
 
28
Walvis Bay, Namibia
 
01:00 PM
29
Luderitz, Namibia
08:00 AM
06:00 PM
30
At Sea
 
 
31
Cape Town, South Africa ON
07:00 AM
 
32
Cape Town, South Africa
06:00 AM
LESS

The Route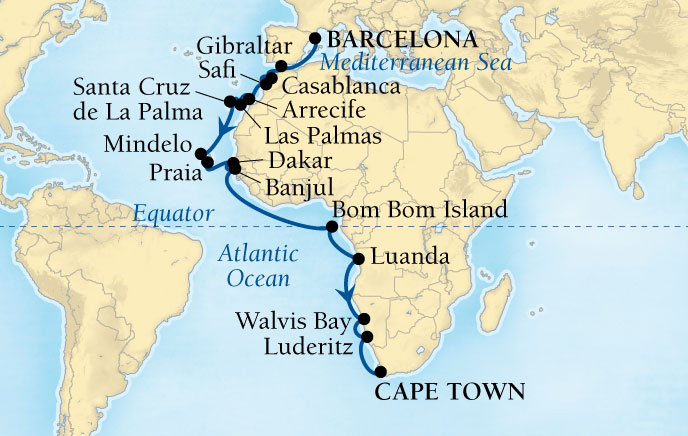 Start with our
vacation planner
so we can match you with our most suitable travel advisor. We do it all for you, air, car, accommodations, tours, you name, it in a seamless luxury vacation experience you will treasure for a lifetime.