The Experience
Discover this elegant city and its beautiful surroundings with a tranquil cruise through the Tigre Delta past islands, mansions and English gardens. Visit the pampas and watch gauchos display their extraordinary horsemanship, or enjoy a fabulous tango show in its birthplace.
DAY
PORT
ARRIVE
DEPART
01
Buenos Aires, Argentina
02
Buenos Aires, Argentina
7:00 p.m.
03
Punta Del Este, Uruguay
8:00 a.m.
6:00 p.m.
04
Cruising the Atlantic Ocean
05
Puerto Madryn, Argentina
9:00 a.m.
7:00 p.m.
06
Cruising the Atlantic Ocean
07
Port Stanley, Falkland Islands
8:00 a.m.
6:00 p.m.
08
Cruising the Atlantic Ocean
09
Ushuaia, Argentina
8:00 a.m.
5:00 p.m.
10
Punta Arenas, Chile
9:00 a.m.
10:00 p.m.
11
Cruising the Chilean Fjords
12
Cruising the Chilean Fjords
13
Laguna San Rafael, Chile
8:00 a.m.
6:00 p.m.
14
Puerto Chacabuco, Chile
8:00 a.m.
5:00 p.m.
15
Puerto Montt, Chile
9:00 a.m.
6:00 p.m.
16
Cruising the Pacific Ocean
17
Valparaiso, Chile
6:00 a.m.
LESS

The Route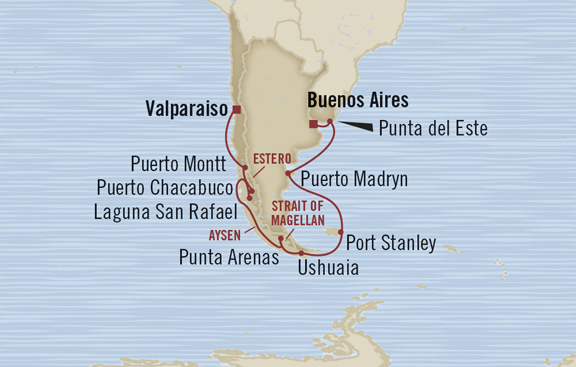 Start with our
vacation planner
so we can match you with our most suitable travel advisor. We do it all for you, air, car, accommodations, tours, you name, it in a seamless luxury vacation experience you will treasure for a lifetime.