The Experience
Seabourn has discovered a secluded cove where, conditions permitting, your captain can anchor and deploy the ship,™s watersports Marina for a day of playing in the sparkling Adriatic Sea. Water-skiing, kayaking, pedal boats, sailboards and many more aquatic toys are available, plus swimming right from your ship! This is the life!
Day
Port
Arrive
Depart
0
Venice, Italy
04:00 PM
1
Triluke Bay, Croatia TR
08:00 AM
05:00 PM
2
Dubrovnik, Croatia TR
08:00 AM
06:00 PM
3
Brindisi, Italy
08:00 AM
06:00 PM
4
Igoumenitsa, Greece
08:00 AM
08:00 PM
5
Vathi, Nisos Ithaki (Ithaca), Greece TR
08:00 AM
05:00 PM
6
At Sea
7
Kotor, Montenegro
08:00 AM
04:00 PM
7
Scenic Cruising Bay of Kotor CO
8
Hvar, Croatia TR
08:00 AM
05:00 PM
9
Rovinj, Croatia
09:00 AM
06:00 PM
10
Venice, Italy ON
08:00 AM
11
Venice, Italy
06:00 AM
LESS

The Route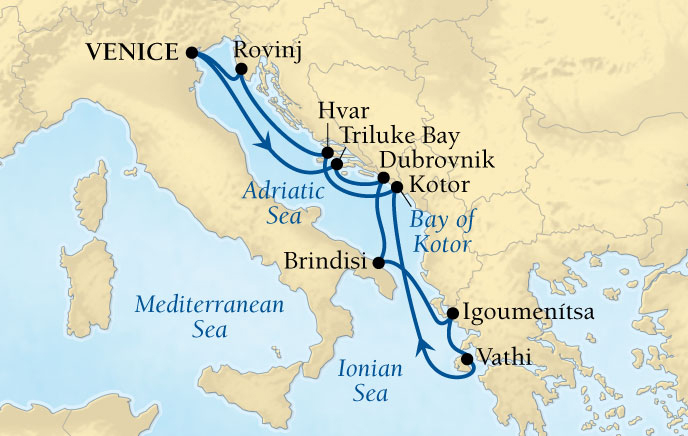 Start with our
vacation planner
so we can match you with our most suitable travel advisor. We do it all for you, air, car, accommodations, tours, you name, it in a seamless luxury vacation experience you will treasure for a lifetime.