The Experience
The Big Apple. The City That Never Sleeps. Call it what you may, New York reigns as one of the world's most dynamic cities. But where to begin? The sacred soil of Ground Zero or stunning Central Park? The Guggenheim or the American Museum of Natural History? Should you take in a Broadway show or simply enjoy the nonstop show of people that parade through the streets? The possibilities are endless in the five boroughs of New York City, so get out and enjoy.
Dining:
New York's ethnic diversity truly manifests itself in its endless cuisines and thousands of restaurants, including the classic New York steakhouse.
Shopping:
Fifth Avenue is synonymous with upscale department stores, Madison Avenue is full of ultra-luxurious boutiques, and SoHo is still one of the most pleasurable shopping neighborhoods.
Day
Port
Arrive
Depart
01
New York, United States
7:00 p.m.
02
Cruising the Gulf of Maine
03
Bar Harbor, United States
8:00 a.m.
4:00 p.m.
04
Halifax, Canada
9:00 a.m.
5:00 p.m.
05
Sydney, Canada
9:00 a.m.
5:00 p.m.
06
Cruising the St. Lawrence River
07
Quebec City, Canada
8:00 a.m.
6:00 p.m.
08
Cruising the Gulf of St. Lawrence
090
Corner Brook, Canada
8:00 a.m.
5:00 p.m.
10
L'anse Aux Meadows, Canada
8:00 a.m.
3:00 p.m.
11
Cruising the Atlantic Ocean
12
Cruising the Atlantic Ocean
13
Cruising the Atlantic Ocean
14
Cork (Cobh), Ireland
1:00 p.m.
8:00 p.m.
15
Dublin, Ireland
8:00 a.m.
5:00 p.m.
16
Falmouth (Cornwall), United Kingdom
8:00 a.m.
3:00 p.m.
17
London (Dover), United Kingdom
7:00 a.m.
LESS

The Route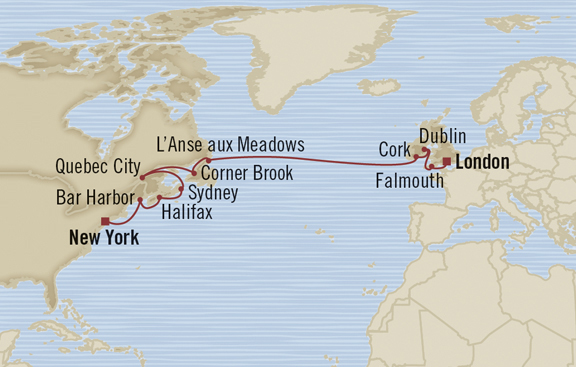 Start with our
vacation planner
so we can match you with our most suitable travel advisor. We do it all for you, air, car, accommodations, tours, you name, it in a seamless luxury vacation experience you will treasure for a lifetime.