The Experience
Create your own tales of the South Pacific on a one-of-a-kind itinerary that stretches from southeast Asia to northeast Australia. From Singapore, an important world trade center filled with superior options for exploring, shopping, and dining, you'll cruise to Indonesia, where you'll visit Semarang, with its fascinating history' beautiful Bali, a coveted destination for generations, and the home of the Komodo dragon. Continue on Australia's tropical northern coast, where you'll stop at less-traveled ports such as Darwin, with its lively yet laidback ambiance, and Thursday Island, once a World War II military outpost. Your voyage culminates in Cairns, gateway to the Great Barrier Reef. You'll also experience a fascinating mix of world cultures on a two-week idyll punctuated with leisurely days at sea.
Day 1 Embark the m/s Paul Gauguin in Singapore, Southeast Asia
An independent city-state in southeast Asia that has become one of the world,™s most important ports and financial centers, this bustling multicultural metropolis offers a host of activities, from superior dining and shopping to world-class attractions such as Universal Studios Singapore® theme park and Marine Life Parkâ"¢, the world,™s largest oceanarium. Embark the m/s Paul Gauguin here, settle into your stateroom, and enjoy dinner on board. The ship sets sail late tonight.
Days 2-3 At Sea
Spend two days enjoying shipboard life: take a dip in the pool, watch the South Pacific pass by, play some table tennis, or read up on our next port at the Reading Gallery.
Day 4 Semarang, Indonesia
Semarang,™s fascinating history includes eras as an Islamic center, a Dutch colonial trading port, and the founding home of Indonesia,™s Communist party. Today, it is a center for the production of herbal medicines used widely throughout the country. Explore its many religious attractions, visit its beautiful public garden, or browse the shopping district.
Day 5 At Sea
Spend the day enjoying The Gauguin,™s Polynesian ambience: casual, leisurely, and elegant. Perhaps you,™ll work out in the fitness center and later enjoy specialties inspired by one of the top chefs of Paris over dinner in La Veranda.
Day 6 Benoa, Bali, Indonesia
With its beautiful beaches, lush landscapes, exotic culture, beautiful handicrafts, and fascinating dance traditions, Bali has drawn travelers from around the world for generations. Benoa is your launchpoint for discovering the treasures of this exquisite island, such as Borobudur, the fabulous ninth-century Buddhist temple.
Day 7 Komodo Island, Indonesia
Home of the Komodo dragon the world,™s largest lizard, which exists nowhere else on Earth the island of Komodo is one of three islands that comprise Komodo National Park, a UNESCO World Heritage Site and Man and Biosphere Reserve. Enjoy the tropical climate and scenic, hilly terrain rimmed with beaches, and perhaps visit the park or take a cruise in a glass-bottom boat.
Days 8-9 At Sea
Enjoy two more days at leisure as your captain charts a course toward Australia. You might attend an informative lecture by an onboard guest expert, or let Les Gauguines, our troupe of hostess/entertainers, school you in Polynesian arts such as pareo tying.
Day 10 Darwin, Australia
The capital of Australia,™s tropical Northern Territory, on the Timor Sea, Darwin is an attractive city of contrasts: lively yet laidback, urban yet remote, and a multicultural mix of 56 nationalities. Spend time in the revitalized waterfront area, featuring shops, restaurants, lagoons, parks, and mansions. Visit the Mindil Beach Sunset Market the best known of the city,™s many outdoor markets. Or venture farther afield, to Crocosaurus Cove, where you can get close to saltwater crocodiles, or to Parap, a suburb whose galleries are brimming with contemporary and Aboriginal art.
Days 11-12 At Sea
Your Pacific idyll continues with two more days to pursue your own interests on board. Relax in a deck chair with a good book ,¦ gather with friends for a cocktail in the Piano Bar ,¦ or pick up a souvenir in La Boutique. And enjoy live entertainment in Le Grand Salon after a sumptuous gourmet dinner at L,™Etoile.
Day 13 Thursday Island, Australia
The unofficial capital of the Torres Strait Islands, in the far north of the Australian state of Queensland, Thursday Island (called TI, by the locals) was settled by Melanesian and Polynesian explorers some 2,000 years ago. Experience its cultural mix of Asian, European, and Pacific Island influences at the Gab Titui Cultural Centre, or climb to Green Hill Fort to admire military artifacts and splendid views.
Day 14 At Sea
Today is yours to relax amid the luxury of The Gauguin. Perhaps you will visit our award-winning spa, take a dip in the pool, or choose a movie from our onboard DVD library.
Day 15 Disembark in Cairns, Australia
The gateway to Far North Queensland, tropical Cairns is best known for the amazing natural wonders that surround it, from the Great Barrier Reef to the Outback. You,™ll disembark The Gauguin here this morning.
LESS

The Route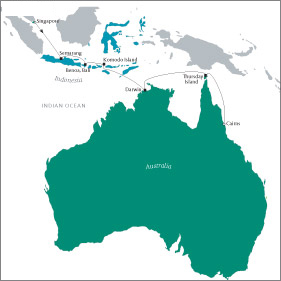 Start with our
vacation planner
so we can match you with our most suitable travel advisor. We do it all for you, air, car, accommodations, tours, you name, it in a seamless luxury vacation experience you will treasure for a lifetime.