The Experience
Islands in the Sun, Madeira & the Canaries. Add some sunshine to your life with a roundtrip voyage from Malaga to the Canary Islands. Relax in Funchal's lush botanical gardens, shops and restaurants, and spend an evening sipping Madeira at elegant Reid's Palace hotel. Don't forget your walking shoes for the Canaries! On Tenerife, you'll see one of the world's tallest volcanoes and enjoy lively Santa Cruz nightlife with an overnight stay. Discover the astonishing landscapes of La Palma's national park, and take advantage of optional mountain biking, golf and sailing excursions in La Gomera. In Arrecife (Lanzarote Island), join a camel ride in the Fire Mountains or bask on golden sand beaches. Sail through Gibraltar to an overnight stay in Malaga on the Costa del Sol, where you can see the 11th century Moorish Alcazaba, Picasso's art, and dine on exquisite tapas and wines.

DATE
Port/City
Activity
Arrival
Depart
SUN 16-NOV
Malaga, Spain
Embark
6:00 pm
MON 17-NOV
AT SEA
Cruising
TUE 18-NOV
Funchal (Madeira), Portugal
Docked
1:00 pm
WED 19-NOV
Funchal (Madeira), Portugal
Docked
6:00 pm
THU 20-NOV
Tenerife, Canary Islands
Docked
2:00 pm
FRI 21-NOV
Tenerife, Canary Islands
Docked
6:30 pm
SAT 22-NOV
Santa Cruz de la Palma, Canary Islands
Docked
7:30 am
10:00 pm
SUN 23-NOV
San Sebastian de la Gomera Island, Canary Islands
Docked
7:30 am
5:00 pm
MON 24-NOV
Lanzarote, Canary Islands
Docked
8:00 am
6:00 pm
TUE 25-NOV
AT SEA
Cruising
WED 26-NOV
Gibraltar, United Kingdom
Docked
8:00 am
1:00 pm
WED 26-NOV
Malaga, Spain
Docked
7:30 pm
THU 27-NOV
Malaga, Spain
Debark
LESS

The Route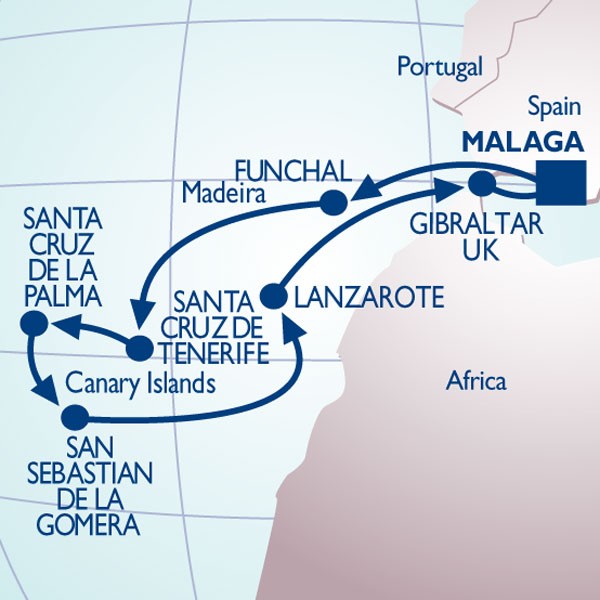 Start with our
vacation planner
so we can match you with our most suitable travel advisor. We do it all for you, air, car, accommodations, tours, you name, it in a seamless luxury vacation experience you will treasure for a lifetime.