The Experience
See another side of this lovely city with a cruise along its charming canals. Visit the quaint old harbor at Nyhavn and beautiful Rosenborg Castle and, of course, the famed statue of the Little Mermaid. Or venture into the countryside and enjoy its panoramic vistas, fairy tale castles and the village of Fredensborg.
Day
Port
Arrive
Depart
01
Stockholm, Sweden
5:00 p.m.
02
Helsinki, Finland
10:00 a.m.
7:00 p.m.
03
St. Petersburg, Russia
9:00 a.m.
04
St. Petersburg, Russia
05
St. Petersburg, Russia
6:00 p.m.
066
Tallinn, Estonia
8:00 a.m.
3:00 p.m.
07
Klaipeda, Lithuania
12:00 p.m.
8:00 p.m.
08
Gdansk (Gdynia), Poland
7:00 a.m.
4:00 p.m.
09
Berlin (Warnemunde), Germany
8:00 a.m.
10:00 p.m.
10
Copenhagen, Denmark
8:00 a.m.
5:00 p.m.
11
Cruising the North Sea
12
Amsterdam, Netherlands
8:00 a.m.
13
Amsterdam, Netherlands
LESS

The Route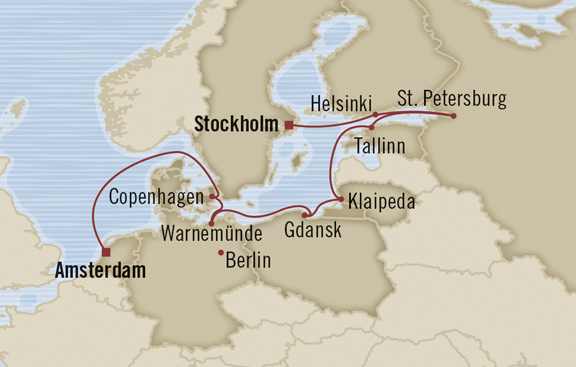 Start with our
vacation planner
so we can match you with our most suitable travel advisor. We do it all for you, air, car, accommodations, tours, you name, it in a seamless luxury vacation experience you will treasure for a lifetime.